Sioux Falls Step Forward to Prevent Suicide
Falls Parks, Sioux Falls SD
8:30 am Saturday, June 17, 2017 - 12:00 pm Saturday, June 17, 2017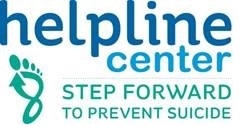 Registration: 8:30am at Falls Park Shelter
1.5 mile walk/5k fun run: 9:00am
Remembrance Ceremony to follow walk/run.
Our community and state continue to experience the loss of our family and friends to suicide. We can all help by Stepping Forward to make a difference. The event raises awareness and support for the Helpline Center's local suicide prevention services and survivor support programs. 100% of proceeds stay local.
Click here to purchase event T-shirt
Event T-shirts are on sale for $15.00 each.