Brookings Step Forward to Prevent Suicide event – Saturday April 21, 2018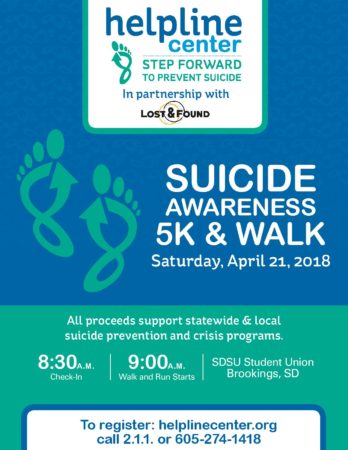 Helpline Center in partnership with the SDSU campus organization Lost & Found
Announce the 2018 Step Forward to Prevent Suicide event
Saturday April 21, 2018
SDSU Student Union Center
The Helpline Center and SDSU campus organization Lost & Found are pleased to announce the 2018 date has been scheduled for the Step Forward to Prevent Suicide event.
When: Saturday April 21, 2018
Where: Student Union Center on the campus of SDSU in Brookings SD
Proceeds from the event are shared with Lost & Found and the Helpline Center for local prevention programming.
Registration: 8:00am
Walk: 9:00am (All events)
5K run: 9:00am
Remembrance Ceremony following the walk
The Step Forward to Prevent Suicide events are held in South Dakota for suicide awareness and prevention. As our communities and state continue to experience the loss of family and friends to suicide, the Step Forward to Prevent Suicide event promotes hope and healing for all that participate. There is hope through raising awareness about suicide and funding prevention programs.
The Step Forward event offers a 1.5 mile walk, a 5K run and a Remembrance Ceremony. The event raises awareness and support for the Helpline Center's local suicide prevention services and survivor support programs. 100% of proceeds stay local.
This event is open to all~ community members and students. Everyone is welcome.
~Thank you~ to all of you and your support to the Helpline Center and Lost & Found~