Volunteer of the Month nominations open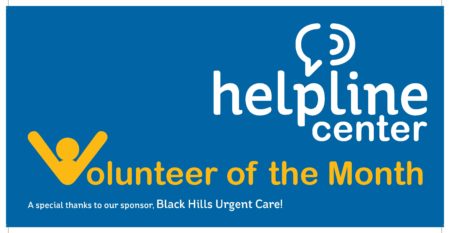 Each month, the Helpline Center and Black Hills Urgent Care recognize a Volunteer of the Month in the Rapid City and Black Hills communities. Agencies and/or individuals are invited to nominate the amazing volunteers that make our community strong. Each Volunteer of the Month receives a gift from Black Hills Urgent Care, a letter from the mayor of Rapid City and a framed certificate and T-shirt from the Helpline Center. The Volunteers of the Month are also recognized at the annual Spirit of Volunteerism Awards.
Nominations are now being taken for the 2017-2018 Volunteer of the Month cycle. To nominate, click here.