Meet Us Mondays!!
It's time for Meet us Monday!
Today we meet Dane Stone, Technology Manager.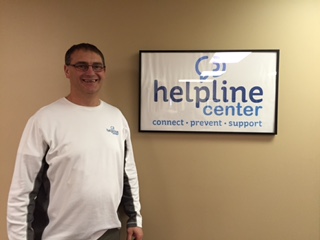 Tell Us About Yourself: I grew up in the small town of Gary, SD. After graduating from high school I spent two years in the United States Army. After my stint in the army I transferred to the Army Reserves and retired after 21 years of service. I attended Northern State University and received a degree in education that I used for 19 years before leaving the teaching profession. I have been married to a wonderful person named Jody for almost 23 years and we have three awesome children – Jordan (20), Regan (16), and Shane (12).
What is your role at Helpline Center and how long have you worked here? I am the Technology Manager where I oversee the network, workstations, phone system and provide data reports as needed. I also get to move furniture once in a while. I have been a part of the Helpline Center for close to two years.
What do you enjoy most about your work at Helpline Center? Being able to help others by being on the phone in the call center or providing solutions for Helpline Center staff is very rewarding for me.
Tell us the most interesting fact about yourself: I have been an assistant football coach for 27 seasons.
What kinds of hobbies and interests do you have outside of work? I love spending time with my family. I enjoy camping, fishing and coaching. I also enjoy doing remodel projects around the house. We just moved to an acreage and are very busy remodeling.
People would be surprised if they knew? I am actually a shy person and don't like to talk on the phone.