Meet Us Mondays!!
Today we meet Riley Amundson, Network of Care Coordinator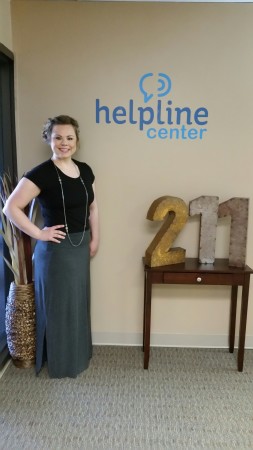 Tell Us About Yourself: . I was born and raised in the Sioux Falls area, I graduated from Presentation College in Aberdeen with a Bachelor's in Business Administration with an emphasis of Healthcare Administration. I also have my Associates in Business Management. I got married in November of 2016 to my best friend, Scott. Scott and I just purchased our first house in his hometown.
What is your role at Helpline Center and how long have you worked there? I'm the Network of Care Coordinator at the Helpline Center. I oversee the development and training of the Sioux Empire Network of Care. I have been with the Helpline Center since February 2016. Prior to this role; I was the Credentialing Coordinator of the South Region for Sanford Health. I was with Sanford Health for over 6 years in various roles.
What do you enjoy most about your work at Helpline Center? I absolutely love the dedication and passion of the team members at the Helpline Center. I enjoy seeing the positive impact the Helpline Center has on the community. I am proud to say I am part of such a wonderful organization that provides a strong and encouraging message to the community. The Helpline Center has great resources, information and amazing people to work with.
Tell us the most interesting fact about yourself: I was home-schooled, graduated from high school and started college at the age of 16 years old.
What kinds of hobbies and interests do you have outside of work? I enjoy bowling (I have been bowling since I was 6 years old), roller-blading, working out and dancing with my fiancé. My fiancé and I love to cook together- we really enjoy trying or even creating new recipes.
People would be surprised if they knew. By the time I was 6 years old I was actively participating in 7 different sports. (Gymnastics, Bowling, Dance (Tap, Ballet, Jazz), Soccer (indoor/outdoor), Swimming, Figure Skating and Karate)