Meet Us Mondays!!
Meet us Monday's is a special feature showcasing a different Helpline Center staff.
Today we introduce Amy Ballou, Volunteer Connections Coordinator for Brookings County.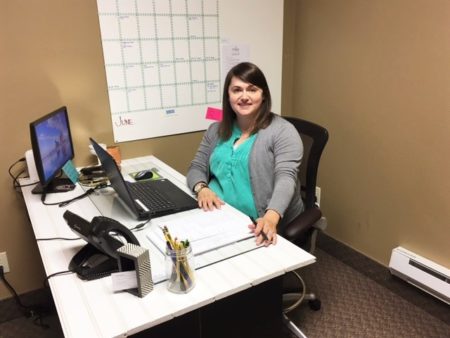 Tell us About Yourself: I am originally from Maryville, TN. Maryville is located on the east side of Tennessee at the foothills of the Smoky Mountains (part of the Appalachian range). I moved to Brookings, South Dakota in 2003. I attended South Dakota State University for both my undergraduate and Master's degree. I live in Brookings with my husband of eleven years, Ed. We have a three-year-old daughter, Josie, and a cat, Sassy. As a family we enjoy spending time outdoors and traveling.
What is your role at The Helpline Center and how long have you worked there? I serve as the Volunteer Connections Coordinator for Brookings County. I have been in this role for a grand total of two months!
What do you enjoy most about your work at The Helpline Center? I appreciate that each work day brings something new. I enjoy working with and talking with so many different individuals and organizations. I learn something new every day.
Tell us the most interesting fact about yourself: On my 18th birthday my parents surprised me with a trip to Skydive Smoky Mountains. After my first tandem jump I was hooked. I spent my senior year of high school skydiving and held my "A" license. As flat as South Dakota is, you would think there would be more jump zones – there aren't. My last jump was in Colorado in 2005. I have a goal to start skydiving again in the next 5 years.
What kinds of hobbies and interests do you have outside of work? Outside of work I enjoy being crafty and creative. I enjoy music, of all types, and like to attend concerts. When I need a "brain break" I like to watch television.
People would be surprised if they knew? …the challenges I've faced in my life. All that I've experienced has created who I am today.