Meet Us Mondays!!
Meet Us Mondays!!
Meet us Monday's is a special feature showcasing a different Helpline Center staff.
Today we introduce Nichole Gjoraas, Health Navigator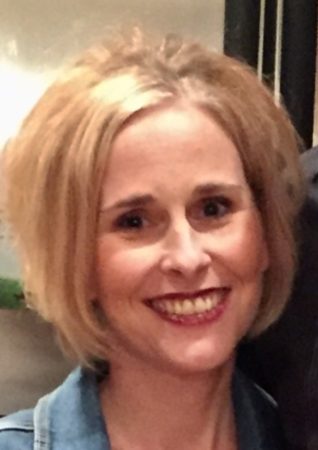 Tell us About Yourself: I am the youngest of 5 kids. I grew up in Sioux Falls and graduated from Lincoln High School. From there I went on to University of South Dakota and pursued my degree in Nursing. I am a mother of 3 busy kids. I have a 17 year old girl – Alexis. She is a junior at Washington High School and is very involved in Varsity Show Choir, DECA and Embrace Church. My 15 year old-Kia is a freshman at Washington also. She keeps us busy with Varsity gymnastics along with bow hunting. My "little" boy- Kaden is 11 and he is a 5th grader at Anne Sullivan. He is just getting busy with football, baseball, basketball and archery when he is not playing video games. I am divorced, but have been blessed with a wonderful boyfriend of 9 years that has taken on 3 crazy kids like they were his own. I am on my 20th year as a RN. My previous adventures include Clinic Nursing in Family Practice setting. I was at McGreevy Clinic for 10 years and took a few off to be with my kids. When I returned to nursing, I was at Falls Community Health as a Nurse Case Manager for 3 years developing the GetScreenedSD Program (Colon Cancer), in partnership with the State. This was a very rewarding job, as I think the Helpline Center will be also. I most recently worked at Sanford as a Primary Nurse again with a wonderful Family Practice Physician.
What is your role at The Helpline Center and how long have you worked there? My role at the Helpline Center is Health Navigator. I will be receiving referrals for women between the ages of 30-64 to increase breast cancer and cervical cancer screening rates in SD. This is in partnership with the Department of Health. As a nurse for 20 years, it is most often very rewarding, but when serving the uninsured/under-insured within the community you know you are touching hearts every day. I feel very privileged to work with the great staff and our clients and help in any way I can. As a Health Navigator I really think this role could be expanded to meet various health care needs to our clients that might not otherwise have an opportunity to do so. I have worked here since 2/6/2017.
What do you enjoy most about your work at The Helpline Center? I have enjoyed thus far learning all the different services 211 has to offer callers. I had no idea all they offered, but after working at Falls Community Health I thought this is a great opportunity to give back to the community. I love to learn and this is definitely a great place to do so. I have enjoyed getting to know my co-workers and hope to continue to engage with them as the Program grows. "It is not about you. It is not about me. It is about "we" working together as one"
Tell us the most interesting fact about yourself: I am pretty lame, but I would say the most interesting fact about me is I only have one functioning lung since 2008.
What kinds of hobbies and interests do you have outside of work? Outside of work I love the outdoors, bow hunting, fishing, camping with the kids. I enjoy the gym and scrap booking. I love Pintrest! I am very involved in the kids' activities and enjoy spending quality time with them and Justin.
People would be surprised if they knew? I would have to say most people would be surprised that I love to bow hunt. In 2015, Justin and I traveled to Manitoba, Canada to go bear hunting. Our first night we sat together in a tree stand because I was scared to sit alone and this huge bear came to bait. I thought it was as caught on tape "too cute to shoot", but it did not give me a shot that night. It was the second night and it was just me and my bow in the tree (yes bears climb and no firearms are allowed) when I looked up after taking several selfies, there he was a bear, the same one as the night before! This time I guess he was "not too cute to shoot." I saw a chance to shoot and thought "well let's see what happens?" I released the arrow and right through the heart. He ran only 40 yards from the tree. This was an incredible experience. The bear was the biggest one shot that season and weighed in at 360 pounds. The best part is Justin hunted for 4 more days after that and never shot a bear. He has been bow hunting for years, myself about 5 years!