Meet Us Mondays!!
Meet us Monday's is a special feature showcasing a different Helpline Center staff.
Today we introduce Sheri Nelson, Suicide Postvention Coordinator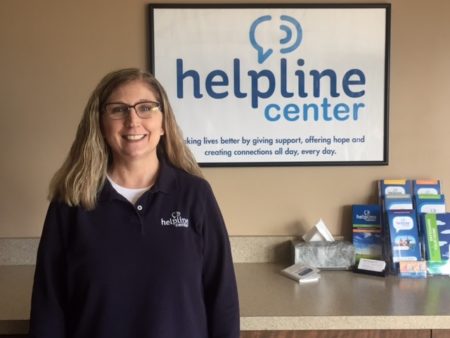 Tell us About Yourself: Hello, my name is Sheri Nelson. I am married and have two wonderful kids, Zach who is 23 and Emma who is 13, and my dog, Penny. My husband, Chad is an artist, and teaches art at Brandon Valley High School. My educational background is in addiction and psychology. In 2014 I furthered my education by getting my Master's degree from the University of South Dakota. I have worked in the Addiction field for almost 19 years and have worked in various roles. I started my career with working with at risk youth, and then moved on to work with adolescent females and woman who were pregnant and parenting dealing with addiction and mental health issues. And most recently I had been working with adults who are dealing with co-occurring issues of addiction and mental health. I am excited to be in my new role.
What is your role at The Helpline Center and how long have you worked there? I am the Suicide Postvention Coordinator and I started February 13th, 2017.
What do you enjoy most about your work at The Helpline Center? I love that everyone here has been so welcoming, supportive and compassionate! I love getting to connect with people on a different level and spread awareness about suicide.
Tell us the most interesting fact about yourself: I played basketball in high school and I used to do 10 flips in a row across the gym.
What kinds of hobbies and interests do you have outside of work? I enjoy spending time with my family and dog, being outdoors, reading, doing wood burning and making jewelry.
People would be surprised if they knew? I took tap dancing and performed at the Washington Pavilion with the class. It was fun, a bunch of adult women tap dancing and it was a good workout.