Meet us Mondays!!
Meet us Mondays is a weekly feature showcasing a different Helpline Center staff every Monday.
Today, we introduce you to Janet Kittams-Lalley, President of the Helpline Center.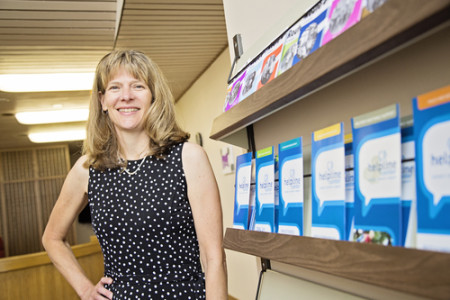 Tell Us About Yourself: I'm a native to Montana, but have spent most of my life in South Dakota with a brief time in North Dakota. I've been married for many years to the ever charming Patrick Lalley. I've worked in the social services and mental health field for over 25 years as a licensed professional counselor and in a variety of leadership positions. My extended family lives in the Twin Cities and Sioux Falls.
What is your role at Helpline Center and how long have you worked here? I currently serve as the President of the Helpline Center, a role I've been in since 2010. However, I have been with the Helpline Center for a total of 20 years – first as a volunteer and then in leadership roles spanning all of the programs at the agency.
What do you enjoy most about your work at Helpline Center? I truly enjoy the rewarding feeling of working hard to make a difference for people every day. The helpline Center is constantly looking at how we can serve people and our communities better. I also enjoy the variety of the programs at the agency…helping people connect to community resources, supporting people in crisis, helping a parent find child care and connecting community members to volunteer opportunities.
Tell us the most interesting fact about yourself: My house is ruled by a Russian blue cat who is always inquisitive and intensely interested in the concept of testing gravity by pushing off anything from a flat surface and watching it fall to the floor…jewelry, bike parts, memory sticks…you name it he has tried to play with it…after all everything in the house is really just a toy.
What kinds of hobbies and interests do you have outside of work? I enjoy bike riding…my husband and I recently purchased a tandem bike and we bike many miles every weekend in the summer. I also enjoy hiking and snow shoeing in state parks and nature areas….my favorite one on the east side of the state is the new Good Earth State Park.
People would be surprised if they knew: My husband and I are the co-authors of a children's book.