Meet Us Mondays!!
Meet us Mondays is a weekly feature showcasing a different Helpline Center staff every Monday.
Today, we introduce you to Courtny Nesheim, Database Specialist and Military and Family Support Coordinator.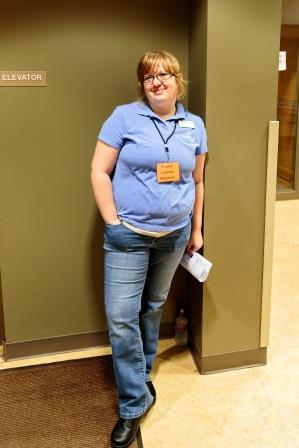 Tell Us About Yourself: I was born and raised in South Dakota and I have lived most of my life in Sioux Falls. I went to college in St. Cloud, Minn. After college I did a year and a half as an AmeriCorps VISTA at USD and at an Alternative High School in Tucson, Ariz. My Husband Kevin and I married in 2013; we have two grown foster children, and a granddaughter. I have a black pug named Pugsley, and I am currently fostering a 4-year-old Boxer named Flex!
What is your role at Helpline Center and how long have you worked here? I have worked at the Helpline Center for 4 years; I started in the call center overnight, and now I am the Military and Family Support Coordinator, Database Specialist, and Call Center Specialist, so I'm the office Jackie-of-all-trades!
What do you enjoy most about your work at Helpline Center? As the Military and Family Support Coordinator, I hold a monthly meeting of different community members who work with veterans. Each month I have the opportunity to hear about the great work our community is doing for veterans and their families
Tell us the most interesting fact about yourself: I hold 3 titles at the Helpline Center, 3 titles with Big Paws Canine, and my undergraduate degree is in 3 fields.
What kinds of hobbies and interests do you have outside of work? I foster and train service dogs for veterans with PTSD, mobility issues, breathing disorders and traumatic brain injuries.
People would be surprised if they knew: I originally went to college with the plan of getting a degree in business.