Meet Us Mondays!!
It's time for Meet us Monday!
Today we meet D'Lisa McKenzie, Helpline Center Child Care Coordinator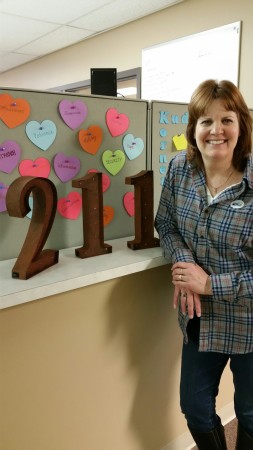 Tell Us About Yourself: I am a wife and mother of one, stepmother of two, and all of our kids are now living and working on their own, outside of SD. My school teacher / farmer husband and I live southeast of Garretson with the MN state line running through our property. Herefords, two black labs, and one persnickety cat keep us company.
What is your role at Helpline Center and how long have you worked here? I joined the team at the Helpline Center at the end of August 2015 and have taken on the role of Child Care Resources Coordinator. I also help in the Call Center for a few short shifts throughout the week.
What do you enjoy most about your work at Helpline Center? I am rewarded by being able to help parents find caregivers for their children, knowing that it can make a huge difference in the life of that family. I love the camaraderie in the call center where we all worry about the callers, share amazement over the stories we hear, and work together to try to meet their needs.
Tell us the most interesting fact about yourself: An interesting thing about me is that my first name was totally made up by my very creative mother. It's a combination of two other names. Due to a little brat – I mean behaviorally challenging youngster – who moved in next door, the name was created.
What kinds of hobbies and interests do you have outside of work? I love music in almost all forms, crafts when I can find the time, and gardening early – but not late – in the season. Now that our kids are spread throughout the country, my husband and I enjoy traveling to see them.
People would be surprised if they knew: People might be surprised to know that I am a closet groupie. I am proud to tell you all about seeing Melissa Etheridge on her first tour, and meeting June Carter Cash in an elevator.