Volunteer Rapid City
The Helpline Center leads community-wide volunteer events throughout the year. These events encourage individuals, families, churches, civic groups and companies to get involved in volunteering.
Summer of DIY
Helpline Center Volunteer Connections is excited to launch the Summer of DIY. Each week throughout the summer of 2017, Helpline Center Volunteer Connections will post a do-it-yourself hands-on volunteer project. All projects are family friendly and designed to benefit local nonprofits.
Helpline Center invites individuals and families to choose projects that interest them. Once completed, the projects can be delivered to the Helpline Center office at 529 Kansas City St., Suite 201. Helpline Center staff will deliver the projects to the appropriate nonprofits. If individuals or families would prefer to deliver the completed projects themselves, they can contact the Helpline Center by dialing 211 to get a list of agencies accepting the DIY projects.
And don't forget to share photos, tagging Helpline Center and using the hashtags #DIYVOLSD and #volunteerrapidcity. For more information about the Summer of DIY, call the Helpline Center at 211.
DIY Project – Week of June 26 – Book Drive
DIY Project – Week of June 19 – Chemo/Dialysis Care Kits
DIY Project – Week of June 12 – Create a Placemat
DIY Project – Week of June 5 – Plant a Garden, Share the Produce
Volunteer Expo
Looking for a meaningful volunteer opportunity in the Rapid City and Black Hills area? Don't miss the 2017 Helpline Center Volunteer EXPO.
Helpline Center's third annual Volunteer EXPO will be from 9 a.m. to 12 p.m. Saturday, Oct. 28, at the Dahl Arts Center. EXPO visitors will be able to connect with Black Hills area agencies and learn more about their volunteer needs. The EXPO will also include family friendly hands-on volunteer projects, cookies and coffee.
A drawing will be held for a free night's stay at the Hotel Alex Johnson and a year membership to the Vertex Sky Bar. For more information about the EXPO, call 211 or email lynn@helplinecenter.org.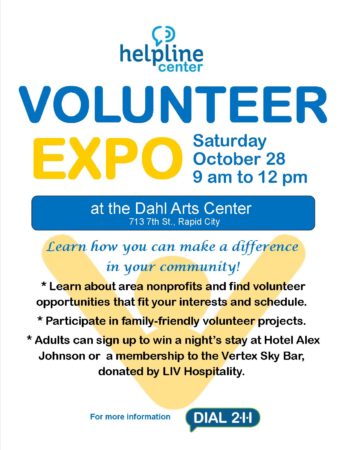 2017 Volunteer Rapid City Events Recap
National Volunteer Week ad in Rapid City Journal, recognizing our community's volunteers.
National Volunteer Week proclamation by Mayor Steve Allender during Rapid City Council meeting.