Helpline Center names January Volunteer of the Month for Brookings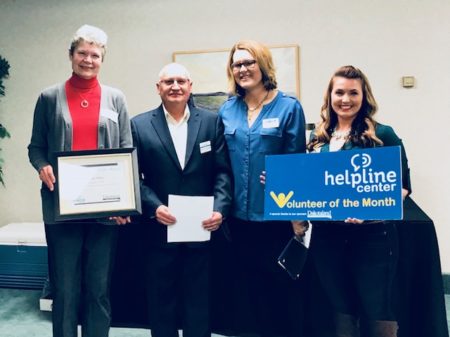 L to R: Kathy Miller, January Volunteer of the Month, Mayor Keith Corbett, Darla Biel, BCYMP Executive Director and Sarah Lippert, Helpline Center Volunteer Connections Coordinator
The Helpline Center congratulates Kathy Miller on being named the January 2018 Volunteer of the Month, an area-wide award program sponsored by the Helpline Center and Dakotaland Federal Credit Union.
There to honor and thank Kathy were Keith Corbett, Mayor of Brookings; Darla Biel, Executive Director of BCYMP; Sarah Lippert, Volunteer Connections Coordinator; and numerous Brookings Chamber members.
Kathy has been with the BCYMP since 2014 and has been serving not only as chair of programming, but also is a current board member. She regularly attends meetings every month, as well as plans/organizes, sets up, executes and finishes most every single event the BCYMP offers its mentees/mentors. Events are pretty much monthly, although sometimes more, sometimes less. Without her excellent work and careful attention to detail, our kids wouldn't have nearly the amazing events and activities to attend and learn from.
Kathy brightens anyone's day, by just being herself. Kathy is incredibly reliable, dedicated and someone who truly cares about the children in our community. She truly enjoys helping with the mentoring program, planning events and activities for the kids; which is shown in the little details she so carefully takes care of. Not one to seek recognition, Kathy truly lives out the BCYMP vision for a mentor. The BCYMP feels incredibly lucky to have such a wonderful role model, friend and teacher play such a vital role in our program.
To the world, Kathy might just be one person; but to many people, Kathy has been the world. We nominate Kathy as volunteer for the month because we feel she is one of the most deserving volunteers we have met.
Thank you, Evelyn for your passion and dedication to volunteering!
For information on volunteer opportunities or the Volunteer of the Month program, please contact Sarah Lippert at bkvol@helplinecenter.org or call 211 for more information.
Thank you to Dakotaland Federal Credit Union for its support!

2017-2018 Volunteers of the Month
June 2017 – 17 Initial Volunteers, Feeding South Dakota
July 2017 – Lorraine Kracke, Senior Companions
August 2017 – Valero, Brookings Backpack Program
September 2017 – Pam Siverhus, Brookings Area Habitat for Humanity
October 2017 – Brookings Healthcare Auxiliary, Brookings Health System
November 2017 – Lynn Darnall, Boys & Girls Club of Brookings
December 2017 – Evelyn Fee, United Living Community
January 2018 – Kathy Miller, BCYMP