October Volunteer of the Month recognized in Sioux Empire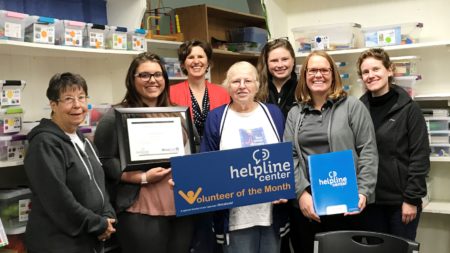 Back Row (L to R): Anelis Coscioni, Soroptimist Club; Bridgid Hurley, Soroptimist Club; and Olivia Lima, Toy Lending Library Board Member. Front Row (L to R): Sherry Peers, Soroptimist Club; Courtney Sorsen, MetaBank; Carol Shuckhart, October Volunteer of the Month; and Susie Ryks, Helpline Center
The Helpline Center congratulates Carol Shuckhart on being named the October 2017 Volunteer of the Month, an area-wide award program sponsored by the Helpline Center and MetaBank.
Carol joined the Soroptimist International of Sioux Falls Club in 2009. She has held several leadership positions in the club and now serves as president. Carol was a key element in starting the Toy Lending Library. She kept the group going with hard work and stubbornness. Carol has performed almost all the tasks related to the daily activities of the Toy Lending Library including buying toys, books, boxes, office materials, preparing the boxes of toys, transportation of the boxes from Health Connect to all the Siouxland Libraries in Sioux Falls and Brandon and back, toy cleaning and sanitizing, preparing bookmarks, preparing surveys and including those in the boxes together with health related information.
A Soroptimist Club member stated, "Carol uses her time, heart and resources to help create and sustain a program to give opportunities to children zero to five years old to enhance their learning development through play. She uses her time to guide the Soroptimist Club to improve the lives of women and children. She cares deeply about helping others. She creates a warming environment that makes others happy to be around her and she invites other people to volunteer, to make a difference. She's very humble and doesn't do things for others to notice her but, she deserves to be noticed."
The Helpline Center and MetaBank are pleased to present Carol with a framed certificate, a gift from MetaBank and a letter of appreciation from Mayor Huether. We will honor Carol again at the Spirit of Volunteerism Awards banquet on May 10, 2018.
For information on volunteer opportunities please call the Helpline Center at 211 or visit volunteer.helplinecenter.org.
Sioux Empire Volunteer of the Month Sponsored by:

2017-2018 Volunteers of the Month
June 2017, Joanne Avery, nominated by Active Generations
July 2017, Carolyn Anderson, nominated by Senior Companions
August 2017, Adam Kolakowski, nominated by The Outdoor Campus
September 2017, Galen Ver Steeg, nominated by Center for Hope
October 2017, Carol Shuckhart, nominated by Soroptimist International
2016-2017 Volunteers of the Month
June 2016, Pat Humphrey, nominated by Senior Companions of South Dakota
July 2016, Herb Doll, nominated by The Outdoor Campus
August 2016, Jeff & Jan Oltman, nominated by Center of Hope
September 2016, Dorene Cink, nominated by Alpha Center
October 2016, Southeastern Directions for Life, nominated by Lunch Is Served
November 2016, Berneice Johnson, nominated by Sanford USD Medical Center
December 2016, Sandy Keeley, nominated by Avera@Home Hospice
January 2017, Jeff Goff, nominated by Big Brothers Big Sisters
February 2017, James Schmidt, nominated by The Salvation Army
March 2017, Denny Brown, nominated by Washington Pavilion of Arts & Science
April 2017, Larry Petersen, nominated by Avera Prince of Peace
May 2017, Donna Miranda, nominated by Independent Living Choices
NOMINATIONS WANTED!
Volunteer of the Month is an area-wide award program sponsored by the Helpline Center and MetaBank. We are currently accepting nominations for November 2017 – October 2018 winners.
Nominations are due September 1, 2017.