August Volunteer of the Month recognized in Sioux Empire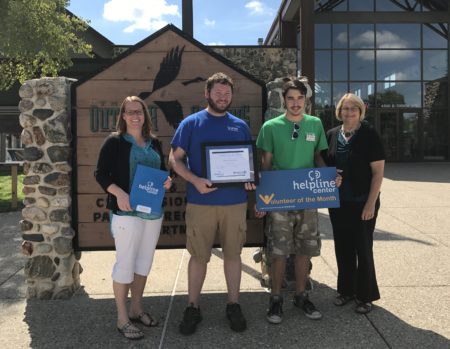 (L to R): Susie Ryks, Helpline Center; Kyle Grogan, The Outdoor Campus; Adam Kolakowski, August Volunteer of the Month; Paula Ullom, MetaBank
The Helpline Center congratulates Adam Kolakowski on being named the August 2017 Volunteer of the Month, an area-wide award program sponsored by the Helpline Center and MetaBank.
Almost any time of year, almost any day of the week, Adam can be found at The Outdoor Campus. Since he started in March 2015, Adam has logged well over 600 hours. He volunteers for the majority of the classes offered, helping youth and adults learn new outdoor skills such as fishing, archery, outdoor cooking, orienteering, snowshoeing and ice fishing. He also assists with programs about South Dakota wildlife.
This 14-year-old homeschooler is often present to lend a hand at the large events held at The Outdoor Campus such as Middle School Days, Women's Try It Day and Outdoor University, when the facility hosts anywhere from several hundred to 4,000 participants. These events make for long days, and it is not uncommon for Adam to work the entire time.
The Helpline Center and MetaBank are pleased to present Adam with a framed certificate, a gift from MetaBank and a letter of appreciation from Mayor Huether. We will honor Adam again at the Spirit of Volunteerism Awards banquet on May 10, 2018.
For information on volunteer opportunities please call the Helpline Center at 211 or visit volunteer.helplinecenter.org.
Sioux Empire Volunteer of the Month Sponsored by:

2017-2018 Volunteers of the Month
June 2017, Joanne Avery, nominated by Active Generations
July 2017, Carolyn Anderson, nominated by Senior Companions
August 2017, Adam Kolakowski, nominated by The Outdoor Campus
2016-2017 Volunteers of the Month
June 2016, Pat Humphrey, nominated by Senior Companions of South Dakota
July 2016, Herb Doll, nominated by The Outdoor Campus
August 2016, Jeff & Jan Oltman, nominated by Center of Hope
September 2016, Dorene Cink, nominated by Alpha Center
October 2016, Southeastern Directions for Life, nominated by Lunch Is Served
November 2016, Berneice Johnson, nominated by Sanford USD Medical Center
December 2016, Sandy Keeley, nominated by Avera@Home Hospice
January 2017, Jeff Goff, nominated by Big Brothers Big Sisters
February 2017, James Schmidt, nominated by The Salvation Army
March 2017, Denny Brown, nominated by Washington Pavilion of Arts & Science
April 2017, Larry Petersen, nominated by Avera Prince of Peace
May 2017, Donna Miranda, nominated by Independent Living Choices