Substance Use Disorder Resources
The Helpline Center is working with the South Dakota Department of Social Services to provide support to individuals or families struggling with a substance use disorder (SUD). If you or someone that you love is struggling with substance use, please reach out. Call the South Dakota Resource Hotline: 1-800-920-4343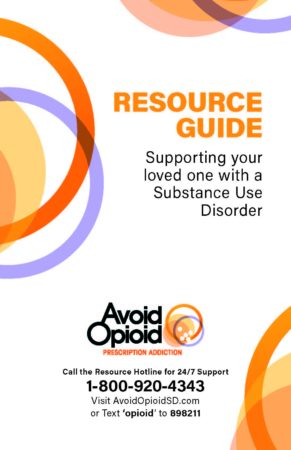 Resource Guide:  Supporting your loved one with a Substance Use Disorder

This guide is for you, the family member, friend, or loved one of an individual living with a substance use disorder, to assist in the path towards recovery. To request print copies, please complete this form.

Care Coordination is a free service. Whether you are concerned about yourself or a loved one, trained specialists are able to answer questions and can help get you and your family on the path towards recovery. Call the Resource Hotline 24/7 at 1-800-920-4343 for help and guidance. You can also enroll in Care Coordination for yourself or a loved one by completing this form.

Medication Safeguarding
DisposeRx packets contain an FDA-approved ingredient that chemically and physically neutralizes the drugs when mixed with water. It can be used with pills, tablets, capsules, liquids and powders and thrown away safely at home. To request DisposeRx packets to be mailed directly you, please complete this form. 

Safer Lock Box is a 4-digit, 10,000 combination locking medicine box. It allows storage of all prescription and over the counter medications in one secure place, and assists in protecting family members from accidental poisoning or medicine misuse.

To request a Safer Lock Box, please complete this form.