2018 Spirit of Volunteerism Awards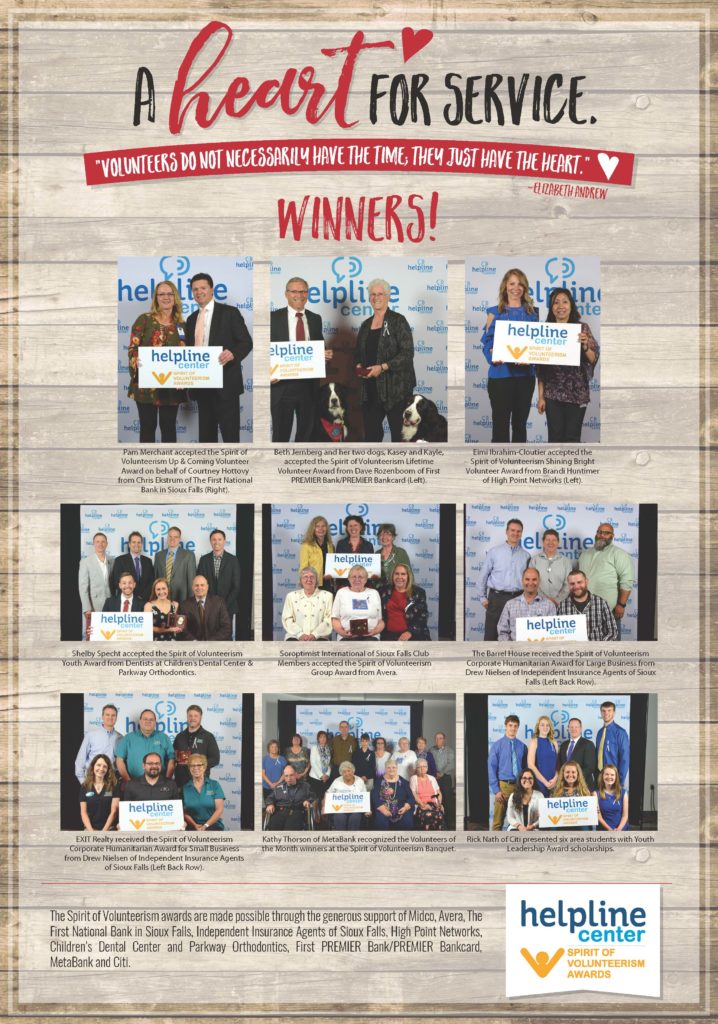 2018 Spirit of Volunteerism Nominees 2018 Spirit of Volunteerism Photos
More than 500 people, including local community leaders, non-profit agency representatives and business executives, turned out Thursday, May 10, for the 2018 Spirit of Volunteerism Awards. The Helpline Center hosted the luncheon at the Sioux Falls Convention Center. A total of 77 nominees, all of whom are local volunteers, were recognized at the 36th annual awards luncheon. Winners of the Spirit of Volunteerism Awards were announced in the following categories: Youth, Group, Adult (Up and Coming, Shining Bright, Lifetime), and Corporate Humanitarian (Large Business and Small Business). In addition, 12 Volunteer of the Month award winners were recognized during the program and six local high school students received a Youth Leadership Award scholarship. The banquet featured inspiring stories about unsung heroes going above and beyond to volunteer in our community.
The Spirit of Volunteerism Awards luncheon is held annually by the Helpline Center to honor outstanding volunteers in the Sioux Falls area. Sponsors of the event include Midco, Avera, The First National Bank in Sioux Falls, Independent Insurance Agents of Sioux Falls, High Point Networks, Children's Dental Center and Parkway Orthodontics, First PREMIER Bank/PREMIER Bankcard, MetaBank and Citi.
The 2018 Spirit of Volunteerism Award winners are:
Youth Category: Shelby Specht, for starting project "Kandy for Kids" where she made over 600 candy bouquets to raise money for CMN.
Adult Up and Coming Category: Courtney Hottovy, for her volunteer work with Sanford Hospice – Ava's House visiting terminal ill patients and playing her violin.
Adult Shining Bright Category: Eimi Lbrahim-Cloutier, for her volunteer service as the school site coordinator for Feeding South Dakota BackPack Program at Anne Sullivan.
Adult Lifetime Category: Beth Jernberg, for her service in developing the Pet Therapy program at Avera that now has 27 certified handlers in over 7 locations.
Group Category: Soroptimist International of Sioux Falls, for creating the nonprofit, Toy Lending Library, that lends out toys for children zero to five years old.
Corporate Humanitarian (large business) Category: The Barrel House, for raising nearly $90,000 to pay for Sioux Falls School District children's meal account that have a negative balance.
Corporate Humanitarian (small business) Category: EXIT Realty, for its work on both new home construction as well as neighborhood revitalization projects with Habitat for Humanity of Greater Sioux Falls.
Citi also presented the Youth Leadership Awards at the event. Six high school students received $1,000 scholarships in recognition for their community involvement:
Nareen Barwari, Roosevelt High School
Anna DeYoung, Sioux Falls Christian High School
Brooklynn Gross, Harrisburg High School
Caitlynn McGregor, McCook Central High School
Zachary Severson, Canton High School
Max Wilde, Brandon Valley High School
The following Volunteers of the Month were also recognized:
June of 2017, Joanne Avery, nominated by Active Generations
July of 2017, Carolyn Anderson, nominated by Senior Companions of South Dakota
August of 2017, Adam Kolakowski, nominated by South Dakota Game, Fish, & Parks
September of 2017, Galen Ver Steeg, nominated by Center of Hope
October of 2017, Carol Shuckhart, nominated by Soroptimist International of Sioux Falls
November of 2017, Sherri Goebel, nominated by Washington Pavilion of Arts & Science
December of 2017, Reva Rezac, nominated by Sanford Health
January of 2018, Jen Miklos, nominated by JAM Art & Supplies
February of 2018, Becky and Ron Treiber, nominated by Avera@Home Hospice
March of 2018, Caden Houge, nominated by Butterfly House & Aquarium
April of 2018, Rob Hugelman, nominated by LifeScape
May of 2018, Val Klinker, nominated by Independent Living Choices
Congratulations to our winners, we look forward to honoring you on Thursday, May 10, 2018 at the Spirit of Volunteerism Awards Luncheon, hosted by the Helpline Center.
The Helpline Center Volunteer Connections program provides the critical link between those who want to volunteer and the agencies that need them. The Volunteer Connections program manages an online database of hundreds of volunteer opportunities in the Sioux Empire. The volunteer database can be accessed at volunteer.helplinecenter.org. Helpline Center Volunteer Connections also recruits volunteers through weekly emails and texts, provides volunteer manager trainings, organizes the Volunteer Sioux Falls events and coordinates volunteer recognition events such as Spirit of Volunteerism Awards and Volunteer of the Month.