Surviving After Suicide Support Class
Helpline Center, 1000 N. West Avenue, Suite 310
7:00 pm Tuesday, July 7, 2020 - 8:30 pm Tuesday, July 7, 2020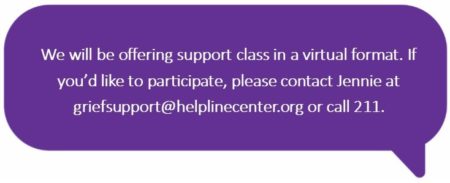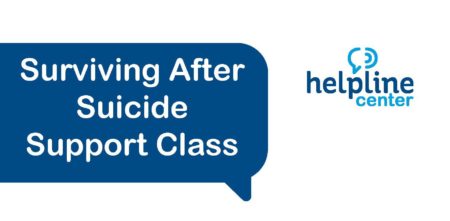 The Surviving After Suicide (SAS) class is designed to help survivors of suicide express and understand the troubling grief, stigma, sadness and pain they feel in a safe and supportive environment.
The Helpline Center is pleased to offer this 10-week education and support class for survivors of suicide. Each class of the 10 weeks focuses on a unique aspect of survivor grief and is followed by a support session allowing members to share their stories. The supportive mourning process is guided by a guidebook and journal which includes practical strategies for coping and healing.
There is no cost for this class but pre-registration is required and a commitment to attending all sessions is highly recommended. To register and learn more, please contact Jennie by dialing 211 or email her at griefsupport@helplinecenter.org.
* A survivor is recognized as a person who has lost someone to suicide.