Surviving After Suicide Support – Now Virtual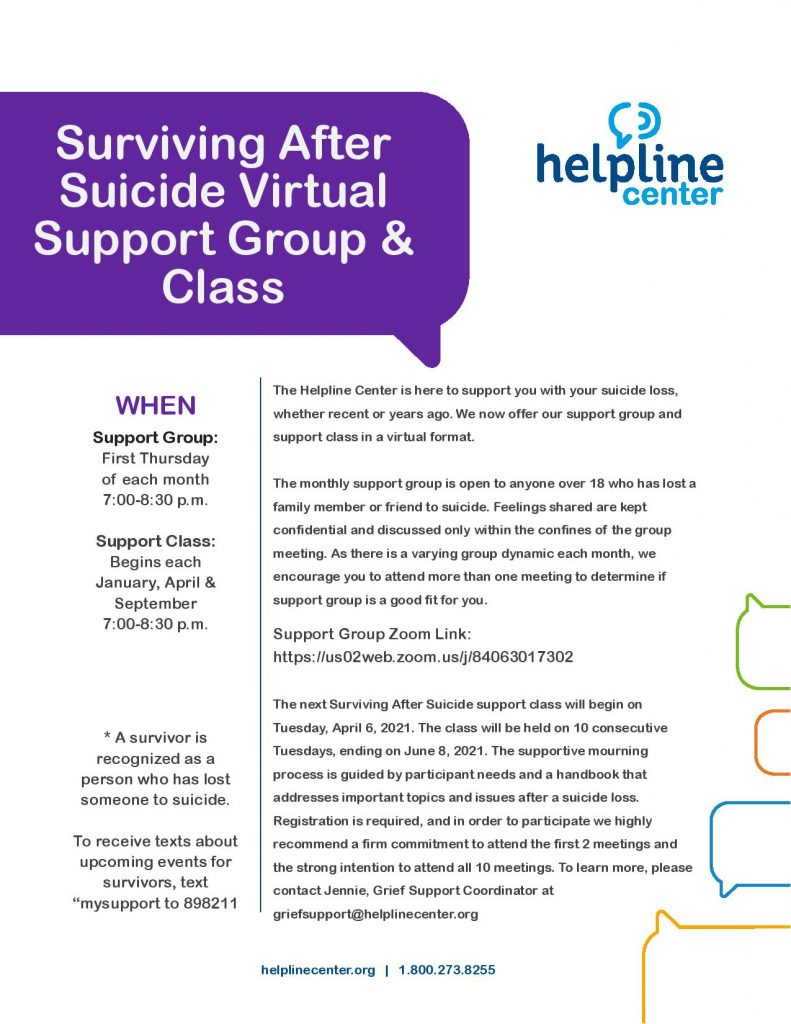 Each year nearly 45,000 people die in the United States by suicide. This leaves over 1 million close relatives in the United States every year who have survived the suicide of a loved one. Survivors of a loss to suicide are often left with a unique grief full of questions, and conflicting feelings, guilt, and anger. In addition, society's stigma about suicide often leaves people feeling very alone and misunderstood. The Helpline Center provides multiple services for survivors of suicide.
Our Survivors of Suicide Support Group is held the first Thursday of each month from 7:00-8:30 p.m. Please join us at the following Zoom link:
Support Group
The next Surviving After Suicide support class will begin on Tuesday, April 6, 2021 from 7:00-8:30 p.m. The class will be held on 10 consecutive Tuesdays, ending on June 8, 2021. At this time, it is anticipated that the class will be held virtually, on Zoom. If you are not within driving distance of the Helpline Center in Sioux Falls, this may be an important opportunity to benefit from the online class! Although the class and all materials are free of charge, registration is required. To participate, we highly recommend a firm commitment to attend the first 2 meetings and the strong intention to attend all 10 meetings.
The supportive mourning process is guided by participant needs and a handbook that addresses important topics and issues after a suicide loss. It includes straightforward information and practical strategies for coping and healing. Please contact Jennie Marks, Grief Support Coordinator at griefsupport@helplinecenter.org to learn more and register.