June Volunteer of the Month for Brookings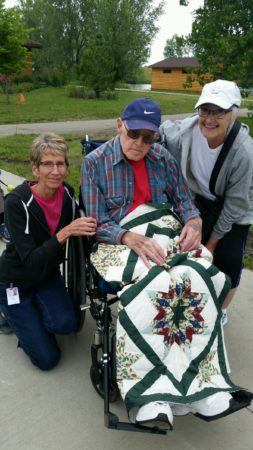 The Helpline Center congratulates Doris Knutson on being named the June 2020 Volunteer of the Month, an area-wide award program sponsored by the Helpline Center and First Bank and Trust.
Doris has been a volunteer with AseraCare Hospice for 7 years this July. Doris visits people who are on hospice care and have 6 months or less to live. Some of them live in the nursing home while others remain in their home. She brings extra support to them on their final journey as most people do not enjoy being alone during that time. While she is there, Doris will read, go outside, help with an activity, visit or even just be present and hold their hand. Doris also assists with music therapy at a facility so that multiple residents are able to attend, and she provides help if they need it with the different instruments they use during each session. In addition to that, Doris often helps with other activities that pop-up, whether it be a special request such as fishing with a patient, or to help lead crafts with the residents. Doris is there with helping hands and support. She visits multiple patients at least twice a month, sometimes more. In addition to that, she assists with music therapy multiple times a month and other opportunities that change from month to month, such as funeral attendance, providing support to a special moment with a patient, or helping with company-sponsored activities in the community.
When Doris first started with AseraCare, they did not have many patients in the area as they had just expanded, but she stuck it out when most people would not. Although they tried to find projects she could help with, it was not the same as visiting with a patient to provide that support. AseraCare now cares for many patients in the area and Doris is always there and ready to help. She is often visiting multiple patients to make sure they each receive extra support. Doris goes the extra mile and is a blessing to have on their team.
Staff at AseraCare stated that "Doris is a pillar in the community. She is a wonderful example of how to be an active part of your community and give to those in need or even just to brighten someone's day! She volunteers at multiple other places and I'm sure they would agree. We feel lucky to have her as part of our team!"
Congratulations, Doris, on being our much-deserved June Volunteer of the Month!
For information on volunteer opportunities or the Volunteer of the Month program, please contact Allison Schmitt at bkvol@helplinecenter.org or call 211 for more information.

Nominations are now open for the 2019-2020 Volunteer of the Month cycle. If you have an outstanding volunteer that you'd like to show appreciation to submit a nomination here.
2019-2020 Volunteers of the Month

June 2019-Alan Cook-Brookings Area Habitat for Humanity
July 2019- Amy Jones– Brookings County Youth Mentoring Program
August 2019-Carol Holm-Sleep in Heavenly Peace
September 2019-Jennifer Erickson & Karla Bedow-Brookings Backpack Project
October 2019 –Tracy Jonas-Brookings Empowerment Project
November 2019 –Shane & Sara Kuehl-Make-A-Wish
December 2019-Jill Lindsay-Johnson-The Salvation Army
January 2020-David Clark-Hope Haven Ministries
February 2020-Bill Alsaker-Boys and Girls Club
April 2020-Volunteer Group-Feeding Brookings
May 2020-Sarah Mae Nelson-Independent Living Choices
June 2020-Doris Knutson-AseraCare Hospice
2018-2019 Volunteers of the Month
June 2018- Ken Ahartz, Brookings Area Habitat for Humanity
August 2018- Ellen Herrboldt, Brookings Area United Way
September 2018- Angie Daly, Brookings First United Methodist Church
October 2018-Penny Crapser, Girl Scouts-Dakota Horizons
November 2018-Vicki Graves, Option 1
December 2018-Ellie Evanson, LATI Adult Education and Literacy Program
January 2019- Wendy Long, Brooking County Youth Mentoring Program
February 2019-Larry Thomas, Brookings STARS Program
March 2019- Robin Buterbaugh, Boys and Girls Club of the Northern Plains
April 2019-Carla DeBeer, The Neighborhoods at Brookview
2017-2018 Volunteers of the Month
June 2017 – 17 Initial Volunteers, Feeding South Dakota
July 2017 – Lorraine Kracke, Senior Companions
August 2017 – Valero, Brookings Backpack Program
September 2017 – Pam Siverhus, Brookings Area Habitat for Humanity
October 2017 – Brookings Healthcare Auxiliary, Brookings Health System
November 2017 – Lynn Darnall, Boys & Girls Club of Brookings
December 2017 – Evelyn Fee, United Living Community
January 2018 – Kathy Miller, BCYMP
February 2018 – Art Niles, Volunteer Service Bank
March 2018- Jessie Kuechenmeister, The Neighborhoods
April 2018- Kasi Emmett, American Red Cross of South Dakota
May 2018- Lisa Husyeva, Children's Museum of South Dakota