Suicide Prevention Week 2020

September is National Suicide Prevention Month, and the Helpline Center invites you to join us in events and promotional activities scheduled during Suicide Prevention week, September 6-12.
On September 8th, we're seeking volunteers willing to help us chalk art throughout Downtown Sioux Falls. Our goal is to fill the sidewalks with positive and encouraging messages. If you're interested in supporting this effort, please email Sheri for additional information at sheri@helplinecenter.org.
Thursday, September 10th is World Suicide Prevention Day. The Helpline Center is honored to host Dese'Rae Stage for an online event at 7:00 p.m.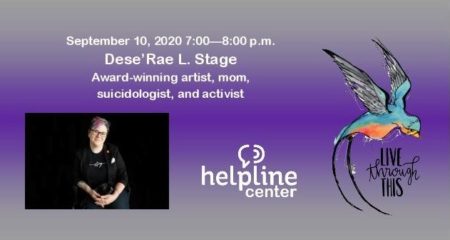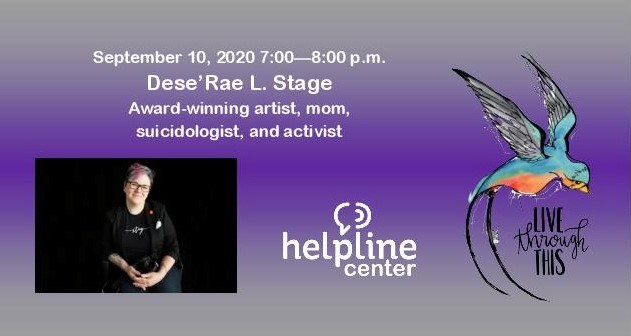 Dese'Rae L. Stage is an award-winning artist, mom, suicidologist, activist, and MSW student. She created Live Through This, a documentary-style multimedia storytelling series that aims to reduce prejudice and discrimination against suicide attempt survivors. Live Through This reminds us that suicide is a human issue by elevating and amplifying survivors' voices through raw, honest stories of survival, and pairing them with portraits—putting faces and names to the statistics that have been the only representation of attempt survivors in the past. Live Through This has received media coverage from the New York Times, Associated Press, NPR, CBS Evening News, and more. Dese'Rae also produces and co-hosts Suicide 'n' Stuff, a video podcast that examines suicide through a critical suicidology lens. She is featured in a documentary about suicide prevention advocates called The S Word. Her writing has been published by Cosmopolitan, CNN, and Romper. She lives in Philadelphia with her wife and children.