September 6-14 is Suicide Prevention Week!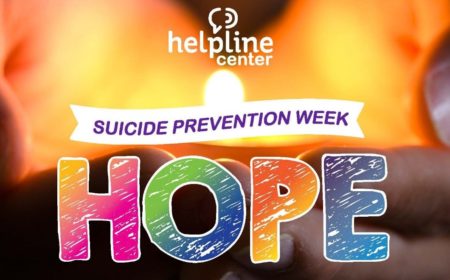 Please join the Helpline Center in events throughout the week to raise awareness about mental health and suicide.
Friday, September 6 – Helpline Hope & Healing Art Showing
Rehfeld's Art & Framing Gallery – Downtown Sioux Falls
6:00pm to 9:00pm
No registration required.
Sunday, September 8 – Sidewalk Chalking
Come volunteer to chalk the downtown sidewalks with messages of hope and healing! We have all the supplies.
1:00pm to 3:00pm.
Email sheri@helplinecenter.org to volunteer!
Sunday, September 8 – Shine a Light Remembrance Ceremony
Falls Overlook Cafe – Falls Park, Sioux Falls
7:30pm
The ceremony will include a Mayoral Proclamation, candlelight walk, and a reading of names of those lost by suicide.
The night will end with the lighting the Falls Purple.
No preregistration required.
Wednesday, September 11 – Come listen to Speaker Kevin Briggs
O'Gorman Performing Arts Center – Sioux Falls, SD
6:30pm
A reitred Sergeant with the California Highway Patrol, Kevin Briggs shares his stories of responding to hundreds of suicide calls while patrolling the Golden Gate Bridge.
Register to attend.
Thank you to Scooter's Coffee for placing Suicide Prevention stickers on all drinks during the week. Get a coffee and support Suicide Prevention Awareness!