2017 Spirit of Volunteerism Black Hills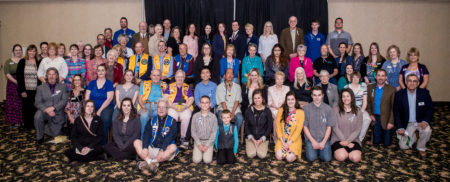 The 2017 Spirit of Volunteerism Awards luncheon was held on Tuesday May 2, in Rapid City.
At the luncheon, attended by approximately 325 people, 47 local volunteers were recognized and five Spirit of Volunteerism Award winners were named. The 12 Volunteers of the Month from the past year were also recognized by the Volunteer of the Month sponsor, Black Hills Urgent Care. The 2017 Spirit of Volunteerism Award winners are:
• Youth Category: Jessica Benson, for giving more than 500 hours in the past two years to volunteer projects in the community, including with Teen Up and Take ACTion.
• Adult Shining Bright Category: Kristen Andrews, for helping children and families in crisis through Bethany Christian Services.
• Adult Up and Coming: Solomon Red Bear, for his volunteer work with Hope Center.
• Group Category: St. Vincent de Paul, for assisting as many as 150 people each month with financial, volunteer and spiritual help. Nominated by the Diocese of Rapid City.
• Corporate Humanitarian Category: Casey Peterson, Ltd. for its company-wide commitment to serving the community through volunteerism.
Thank you to our event sponsors!
Black Hills Energy, BankWest, Scull Construction, Midco and Regional Health
2017 Spirit of Volunteerism Awards photos
At the 2017 Spirit of Volunteerism Awards in Rapid City, 47 nominees in individual, group and business categories were recognized. Below are images from the event.