March Black Hills Volunteer of the Month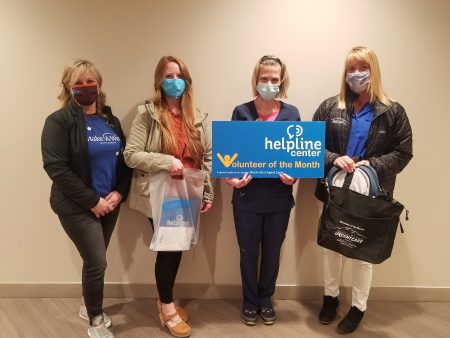 Pictured left to right: Melanie Barclay of Make-A-Wish South Dakota, Audrey Nordine of Helpline Center, Dawn Rix Volunteer of the Month, and Kathy Minnick of Black Hills Urgent Care & Surgical Hospital
RAPID CITY – The Helpline Center and Black Hills Urgent Care are pleased to announce that Dawn Rix has been named the March 2021 Volunteer of the Month. Dawn was nominated by Make-A-Wish South Dakota.
The Volunteer of the Month program is sponsored by the Helpline Center and Black Hills Urgent Care, a division of Black Hills Surgical Hospital. Volunteer of the Month recognizes outstanding individuals who make the community stronger through volunteerism.
Dawn is a wish granting volunteer for Make-A-Wish South Dakota. She meets the families and referred wish kids who have critical illnesses and helps the child determine their one true heartfelt wish. Once a wish is determined, she helps to keep the child focused on their wish by providing wish enhancements and when the wish is approved, plan and give the child a memorable wish reveal with family and/or friends. When it is time for the wish to be granted, she will greet the child at the airport, decorate their hotel room, or help facilitate a wish day party.
A wish that Dawn helped with was a child of a close family friend of hers who was battling Acute Lymphoid Leukemia. Although it was difficult for her to see her friend(s) suffering, she remained extremely professional, but more importantly, she was empathetic, caring, compassionate and went above and beyond to bring a smile to their face.
When it came down to changing their wish due to being in hospice, Dawn communicated well with the family to make sure Make A Wish had covered every detail so that their backyard makeover wish would be exactly the way they envisioned it. Dawn remained a support to the family through their loss and saw the wish through completion, giving as much extra time and input as she could.
Helpline Center and Black Hills Urgent Care presented Dawn with a Volunteer of the Month certificate, a letter from Mayor Allender, and gifts from Black Hills Urgent Care and Surgical Hospital.
For information on volunteer opportunities, please call the Helpline Center at 211 or visit volunteer.helplinecenter.org
Black Hills Volunteer of the Month Sponsored by: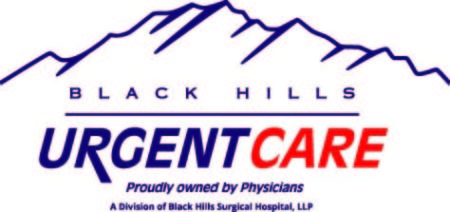 2020-2021 Volunteers of the Month
June 2020- Rapid City Area Schools/Teen Up, Sydney Kincart
July 2020- Allied Arts, Lindsey Myers
August 2020- Wellfully
September 2020- Seventh Circuit CASA Program, Karie Kennedy
October 2020- Pennington County Housing, Robert and Amanda Munyan
November 2020- Salvation Army of Rapid City, Connie Chaney
December 2020- Black Hills VA Hospital Fort Meade, Peter Bonnischen
January 2021- Career Learning Center of the Black Hills, Sally Munger
February 2021- Custer YMCA, Jack Hurd
March 2021- Make-A-Wish South Dakota, Dawn Rix
2019-2020 Volunteers of the Month
June 2019- Volunteers of America-Northern Rockies, Vicki Sweet
July 2019- Postpartum Support International- SD Chapter, Heather Rystrom
August 2019- Sturgis Chamber of Commerce and Visitors Bureau, Danika Gordon
September 2019- Seventh Circuit CASA Program, Margaret Evans
October 2019- Make A Wish South Dakota, Sheila McKinstry
November 2019- Rapid City Storm Special Olympics and Black Hills Works, Sandie Enger
December 2019- Love INC, Walt Boner
January 2020- Hope Center, Dustin Rodger
February 2020- Youth and Family Services, Larry and Brenda Boenisch
March 2020- Rapid City Fire Department, Diane Minion
April 2020-Rapid City Public Library, Mary Lunders
May 2020- Post 22, Lisa Castor
2018-2019 Volunteers of the Month
June 2018 – Teen Up, Alec Ruml
July 2018 -Meals On Wheels, Chris Boyle
August 2018 – Wellfully, Adrian Romeyn
September 2018 – RCFD, Lisa Saunders
October 2018- Special Olympics, Rapid City Flame Leadership Volunteers
November 2018- Seventh Circuit CASA, Gwen Menke
December 2018- Rapid City Young Professionals Group, Kelli Kabrud
January 2019- Club for Boys, Josh Farley
February 2019- Suncatchers Therapeutic Riding Academy, Mary Lee Rude
March 2019- Toys for Tots, Crissy Ludens
April 2019- SDSU Extension and Youth & Family Services, Janet Smith
May 2019- Goodwill of the Great Plains, Roberta Rowen
2017-2018 Volunteers of the Month
June 2017 – Doris Nelson
July 2017 – Robyn Opstedahl
August 2017 – Michelle Pope
September 2017 – Ashley Handcock
October 2017 – Paula Adkins
November 2017 – Richard Horkey
December 2017- Elena Dagit
January 2018- Trudy Schreiner
February 2018 – Sarah Hyde
March 2018 – Christine Siim
April 2018 – Tom and Carol Lefler
May 2018 – Richard "Dick" Fischer


2016-2017 Volunteers of the Month
June 2016 – Anne Miller
July 2016 – Jessica Benson
August 2016 – Joel Guptill
September 2016 – Conard "Gil" Gilbert
October 2016 – Joe Izzillo
November 2016 – Joyce Huber
December 2016 – Andrew No Heart
January 2017 – Nancy Stephenson
February 2017 – Jennifer Freeman
March 2017 – Keith and Alberta Schulte
April 2017 – Leon Lunders
May 2017 – Millie Lau