September Black Hills Volunteer of the Month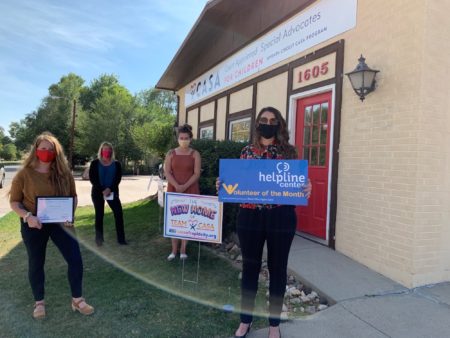 Pictured: Audrey Nordine of Helpline Center, Kathy Minnick of Black Hills Urgent Care and Surgical Hospital, Cristina Anderson of Seventh Circuit CASA, and Karie Kennedy September 2020 Volunteer of the Month.
RAPID CITY – The Helpline Center and Black Hills Urgent Care are pleased to announce that Karie Kennedy has been named the September 2020 Volunteer of the Month. Karie was nominated by Seventh Circuit CASA in Rapid City.
The Volunteer of the Month program is sponsored by the Helpline Center and Black Hills Urgent Care, a division of Black Hills Surgical Hospital. Volunteer of the Month recognizes outstanding individuals who make the community stronger through volunteerism.
As a CASA volunteer, Karie has served as an advocate and change agent on behalf of two local children in foster care over the past year. Karie has built a relationship with these children and connects with them weekly. Karie's efforts embodies the full impact and meaning of volunteerism. Karie's volunteer activity centers around being a continued presence and action-based force in the children's lives; this is carried out by consistent contact with the children and their providers, including but not limited to their placement, caseworker, teachers, counselor, etc. Karie's visits with the children range from spending time with them at their foster placement to taking them on an outing the community.
Additionally, in respect to the court proceedings, Karie writes court reports prepared for case hearings, which is described as a formal letter to the judge. Its narrative speaks to the children's experiences in foster care, progress or regress in daily life, any needs the children have that are or are not being met and much more, especially any recommendations Karie has in regard to concerns on behalf of the children.
All throughout this, Karie has been the familiar face checking in on the children from home-to-home and advocating for them to be enrolled in counseling. While the Department of Social Services does the best to their ability with available resources, caseworkers typically are able to visit the children in care only once a month. Being so, Karie has been a crucial resource to the case and the children's attorney described Karie as effective and instrumental in decisions made on behalf of the case and the children's future.
Helpline Center and Black Hills Urgent Care presented Karie with a framed certificate and gifts from Black Hills Urgent Care.
For information on volunteer opportunities, please call the Helpline Center at 211 or visit volunteer.helplinecenter.org
Black Hills Volunteer of the Month Sponsored by: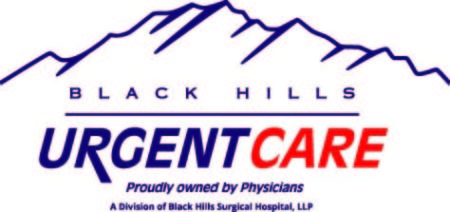 Nominations are now open for the 2020-2021 Volunteer of the Month
2020-2021 Volunteers of the Month
June 2020- Rapid City Area Schools/Teen Up, Sydney Kincart
July 2020- Allied Arts, Lindsey Myers
August 2020- Wellfully
September 2020- Seventh Circuit CASA Program,Karie Kennedy
2019-2020 Volunteers of the Month
June 2019- Volunteers of America-Northern Rockies, Vicki Sweet
July 2019- Postpartum Support International- SD Chapter, Heather Rystrom
August 2019- Sturgis Chamber of Commerce and Visitors Bureau, Danika Gordon
September 2019- Seventh Circuit CASA Program, Margaret Evans
October 2019- Make A Wish South Dakota, Sheila McKinstry
November 2019- Rapid City Storm Special Olympics and Black Hills Works, Sandie Enger
December 2019- Love INC, Walt Boner
January 2020- Hope Center, Dustin Rodger
February 2020- Youth and Family Services, Larry and Brenda Boenisch
March 2020- Rapid City Fire Department, Diane Minion
April 2020-Rapid City Public Library, Mary Lunders
May 2020- Post 22, Lisa Castor
2018-2019 Volunteers of the Month
June 2018 – Teen Up, Alec Ruml
July 2018 -Meals On Wheels, Chris Boyle
August 2018 – Wellfully, Adrian Romeyn
September 2018 – RCFD, Lisa Saunders
October 2018- Special Olympics, Rapid City Flame Leadership Volunteers
November 2018- Seventh Circuit CASA, Gwen Menke
December 2018- Rapid City Young Professionals Group, Kelli Kabrud
January 2019- Club for Boys, Josh Farley
February 2019- Suncatchers Therapeutic Riding Academy, Mary Lee Rude
March 2019- Toys for Tots, Crissy Ludens
April 2019- SDSU Extension and Youth & Family Services, Janet Smith
May 2019- Goodwill of the Great Plains, Roberta Rowen
2017-2018 Volunteers of the Month
June 2017 – Doris Nelson
July 2017 – Robyn Opstedahl
August 2017 – Michelle Pope
September 2017 – Ashley Handcock
October 2017 – Paula Adkins
November 2017 – Richard Horkey
December 2017- Elena Dagit
January 2018- Trudy Schreiner
February 2018 – Sarah Hyde
March 2018 – Christine Siim
April 2018 – Tom and Carol Lefler
May 2018 – Richard "Dick" Fischer


2016-2017 Volunteers of the Month
June 2016 – Anne Miller
July 2016 – Jessica Benson
August 2016 – Joel Guptill
September 2016 – Conard "Gil" Gilbert
October 2016 – Joe Izzillo
November 2016 – Joyce Huber
December 2016 – Andrew No Heart
January 2017 – Nancy Stephenson
February 2017 – Jennifer Freeman
March 2017 – Keith and Alberta Schulte
April 2017 – Leon Lunders
May 2017 – Millie Lau