Volunteer Rapid City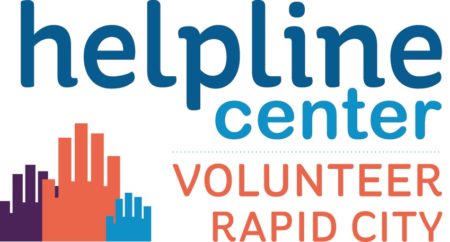 The Helpline Center leads community-wide volunteer events throughout the year. These events encourage individuals, families, churches, civic groups and companies to get involved in volunteering.
To learn how to navigate the Volunteer Connections Database and utilizing the Helpline Center site visit our How to Video's page.
Volunteer Rapid City Sponsored by: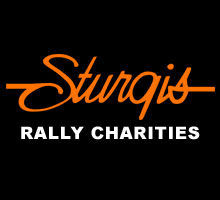 2020 Volunteer Rapid City Events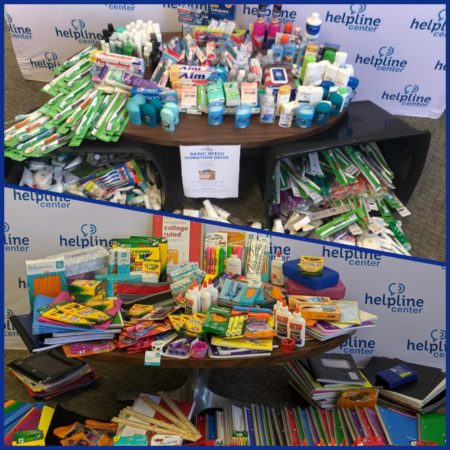 Basic Needs Donation Drive- August 10-31, 2020
Thank you to all those who donated to the Basic Needs Donation Drive!
All donations were donated to nonprofits to distribute to those they serve.
helplinecenter.org/donationdrive.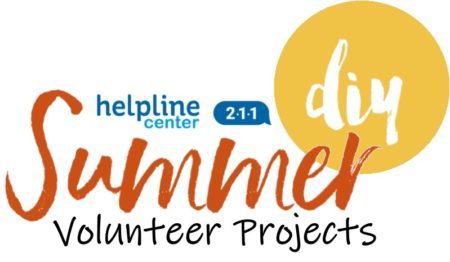 Summer of DIY – May, June, July, August
Do It Yourself Volunteer Projects will be promoted on our website and social media throughout the summer.
For more information go to: helplinecenter.org/diy
click here for the covid19 volunteer page
click here for locations for mask donations
National Volunteer Week- April 19-25, 2020
Mayors Proclamation, honoring area volunteers, and promoting volunteerism in our community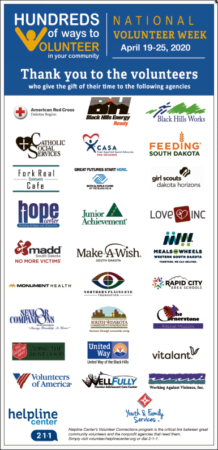 Volunteers On Tap- CANCELLED DUE TO COVID19
Nonprofits bring in service projects for community members to help with and learn more about how to get involved as an ongoing volunteer.
Volunteer Expo- Saturday, October 17, 2020 from 9am to 12 pm
Volunteer fair featuring volunteer opportunities and hands on projects with area nonprofits at the Dahl Arts Center
Volunteer Rapid City Recap
National Volunteer Week April 7-13, 2019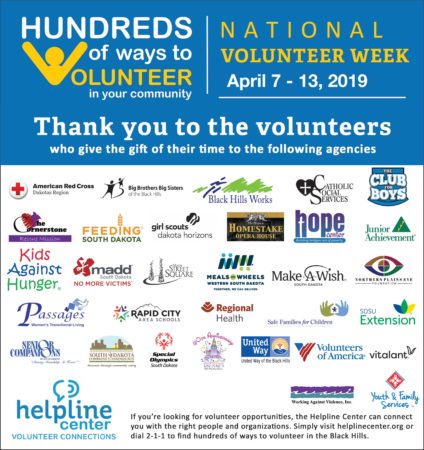 Summer of DIY – June, July, August
Do It Yourself Volunteer Projects will be posted HERE throughout the summer.

Volunteers on Tap- Thursday, September 19, 2019
Hands on projects with area nonprofits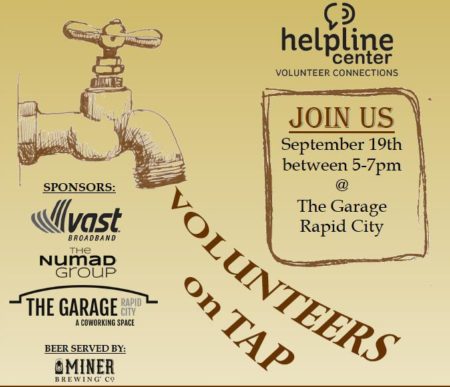 Volunteer Expo- Saturday, October 19, 2019
Volunteer fair featuring volunteer opportunities, nonprofits, and hands on projects