September Volunteer of the Month for Brookings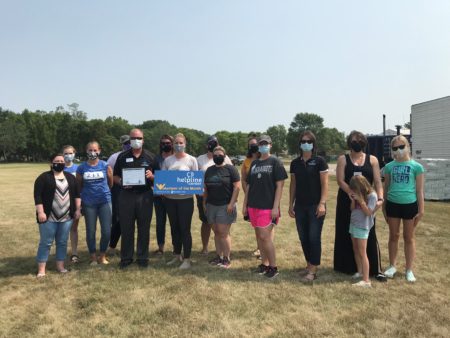 L to R: Staff of Brookings Behavioral Health and Wellness, Jenna Heylens, Bridjett Sturzenbecher, Amy Ward, Tracy Chapman, Tim Lease; Chief Executive Office of The Boys & Girls Club of the Northern Plains, Andrea Brown, Mary Beth Fishback; Executive Director of Brookings Behavioral Health and Wellness, Casey Jungers, Brooke Weber, Nicole Biever; Chief Development Office of The Boys & Girls Club of the Northern Plains, Elizabeth Biever, Caroline Biever
The Helpline Center congratulates the volunteers of The Boys & Girls Club of the Northern Plains Food Distribution on being named the September 2020 Volunteers of the Month, an area-wide award program sponsored by the Helpline Center and First Bank and Trust.
Tim Lease, CEO of The Boys and Girls Club of the North Plains, said "We are grateful to have this opportunity to help those in our community that need us most. Also, we appreciate how so many volunteers have helped out with the food distribution." Individuals have volunteered their time each Monday along with the following businesses and organizations:
Salvation Army
Brookings Area Habitat for Humanity
Brookings Behavioral Health and Wellness
Children's Museum of South Dakota
Boys & Girls Club of Brookings board members and staff
Brookings County Youth Mentoring Program
Bobcat of Brookings, Inc. – donated the use of a Bobcat to unload the food from the truck each week.
Runnings and Hy-Vee – provided bags for donated sweet corn
Corteva Agriscience – donated a truckload of sweet corn
In July, The Boys and Girls Club was contacted about receiving the food truck once a week for Brookings County. They stepped up to the plate and took on this opportunity with helpful hands and hearts. Each week throughout August, they've handed out close to 480 boxes of food, three to each family that comes through the drive-through distribution. Volunteers help to unload the truck filled with food and then to load it into the cars of those who need it.
The food distribution comes at a time when some may need additional assistance the most. Throughout the COVID-19 pandemic, many individuals have been affected. Receiving help to put food on the table each week is a blessing for many members of the Brookings community thanks to the willing hands of the volunteers for the food distribution. When there's a need in our community, residents of Brookings step forward to serve.
Congratulations to the volunteers of The Boys & Girls Club of the Northern Plains Food Distribution on being our much-deserved September Volunteers of the Month!
For information on volunteer opportunities or the Volunteer of the Month program, please contact Allison Schmitt at bkvol@helplinecenter.org or call 211 for more information.

Nominations are now open for the 2019-2020 Volunteer of the Month cycle. If you have an outstanding volunteer that you'd like to show appreciation to submit a nomination here.
2020-2021 Volunteers of the Month
August 2020-Kathy Dodd-Brookings Regional Humane Society
September 2020-Food Distribution Volunteers-The Boys & Girls Club of the Northern Plains
2019-2020 Volunteers of the Month
June 2019-Alan Cook-Brookings Area Habitat for Humanity
July 2019- Amy Jones– Brookings County Youth Mentoring Program
August 2019-Carol Holm-Sleep in Heavenly Peace
September 2019-Jennifer Erickson & Karla Bedow-Brookings Backpack Project
October 2019 –Tracy Jonas-Brookings Empowerment Project
November 2019 –Shane & Sara Kuehl-Make-A-Wish
December 2019-Jill Lindsay-Johnson-The Salvation Army
January 2020-David Clark-Hope Haven Ministries
February 2020-Bill Alsaker-Boys and Girls Club
April 2020-Volunteer Group-Feeding Brookings
May 2020-Sarah Mae Nelson-Independent Living Choices
June 2020-Doris Knutson-AseraCare Hospice
2018-2019 Volunteers of the Month
June 2018- Ken Ahartz, Brookings Area Habitat for Humanity
August 2018- Ellen Herrboldt, Brookings Area United Way
September 2018- Angie Daly, Brookings First United Methodist Church
October 2018-Penny Crapser, Girl Scouts-Dakota Horizons
November 2018-Vicki Graves, Option 1
December 2018-Ellie Evanson, LATI Adult Education and Literacy Program
January 2019- Wendy Long, Brooking County Youth Mentoring Program
February 2019-Larry Thomas, Brookings STARS Program
March 2019- Robin Buterbaugh, Boys and Girls Club of the Northern Plains
April 2019-Carla DeBeer, The Neighborhoods at Brookview
2017-2018 Volunteers of the Month
June 2017 – 17 Initial Volunteers, Feeding South Dakota
July 2017 – Lorraine Kracke, Senior Companions
August 2017 – Valero, Brookings Backpack Program
September 2017 – Pam Siverhus, Brookings Area Habitat for Humanity
October 2017 – Brookings Healthcare Auxiliary, Brookings Health System
November 2017 – Lynn Darnall, Boys & Girls Club of Brookings
December 2017 – Evelyn Fee, United Living Community
January 2018 – Kathy Miller, BCYMP
February 2018 – Art Niles, Volunteer Service Bank
March 2018- Jessie Kuechenmeister, The Neighborhoods
April 2018- Kasi Emmett, American Red Cross of South Dakota
May 2018- Lisa Husyeva, Children's Museum of South Dakota