February Volunteer of the Month for Brookings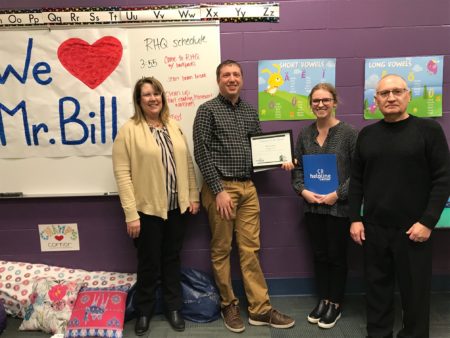 L to R: Connie Bridges, Mortgage Loan Officer with First Bank and Trust; Bill Alsaker, Volunteer of the Month; Allison Schmitt, Helpline Center; Keith Corbett, City of Brookings Mayor
The Helpline Center congratulates Bill Alsaker on being named the February 2020 Volunteer of the Month, an area-wide award program sponsored by the Helpline Center and First Bank and Trust.
Bill has volunteered as an assistant teacher in the Boys & Girls Club Power Up program for the past three summers. During this program, he taught youth math using his secondary education as a math professor at SDSU. Once the school year began, he continued to teach math in the Club Tutors program. Bill works one-on-one with youth to develop resiliency and to successfully complete their homework. In the past, Bill has also been a STEM mentor for two years and served as a judge for the Youth of the Year program.
Bill first began volunteering at the Boys & Girls Club in 2015, and has been a consistent volunteer throughout the years. Currently, Bill dedicates both Monday and Tuesday afternoons to volunteering at the Club. Bill has been incredibly helpful and committed to the Boys & Girls Club. He is currently a math professor at South Dakota State University, and dedicates his free time to help youth succeed in school! Bill's unwavering dedication to Club Tutors lowers the ratio of youth per staff. Being a non-profit organization, these beneficial ratios can sometimes be difficult to achieve. Bill creates an impactful learning environment, where youth are motivated and eager to learn! The Club believes to inspire and enable all young people, especially those who need them most, to realize their full potential as responsible, caring, and productive citizens. Bill is an instrumental team member for them to carry out this mission.
Bill is known to be humble about his volunteer experience, but staff recognize the major impact he has on the youth at the Club. Bill's volunteer efforts affect not only the Club, but also the community. Brookings is simply a better place because of him.
Congratulations, Bill, on being our much-deserved February Volunteer of the Month!
For information on volunteer opportunities or the Volunteer of the Month program, please contact Allison Schmitt at bkvol@helplinecenter.org or call 211 for more information.

Nominations are now open for the 2019-2020 Volunteer of the Month cycle. If you have an outstanding volunteer that you'd like to show appreciation to submit a nomination here.
2019-2020 Volunteers of the Month

June 2019-Alan Cook-Brookings Area Habitat for Humanity
July 2019- Amy Jones– Brookings County Youth Mentoring Program
August 2019-Carol Holm-Sleep in Heavenly Peace
September 2019-Jennifer Erickson & Karla Bedow-Brookings Backpack Project
October 2019 –Tracy Jonas-Brookings Empowerment Project
November 2019 –Shane & Sara Kuehl-Make-A-Wish
December 2019-Jill Lindsay-Johnson-The Salvation Army
January 2020-David Clark-Hope Haven Ministries
February 2020-Bill Alsaker-Boys and Girls Club
2018-2019 Volunteers of the Month
June 2018- Ken Ahartz, Brookings Area Habitat for Humanity
August 2018- Ellen Herrboldt, Brookings Area United Way
September 2018- Angie Daly, Brookings First United Methodist Church
October 2018-Penny Crapser, Girl Scouts-Dakota Horizons
November 2018-Vicki Graves, Option 1
December 2018-Ellie Evanson, LATI Adult Education and Literacy Program
January 2019- Wendy Long, Brooking County Youth Mentoring Program
February 2019-Larry Thomas, Brookings STARS Program
March 2019- Robin Buterbaugh, Boys and Girls Club of the Northern Plains
April 2019-Carla DeBeer, The Neighborhoods at Brookview
2017-2018 Volunteers of the Month
June 2017 – 17 Initial Volunteers, Feeding South Dakota
July 2017 – Lorraine Kracke, Senior Companions
August 2017 – Valero, Brookings Backpack Program
September 2017 – Pam Siverhus, Brookings Area Habitat for Humanity
October 2017 – Brookings Healthcare Auxiliary, Brookings Health System
November 2017 – Lynn Darnall, Boys & Girls Club of Brookings
December 2017 – Evelyn Fee, United Living Community
January 2018 – Kathy Miller, BCYMP
February 2018 – Art Niles, Volunteer Service Bank
March 2018- Jessie Kuechenmeister, The Neighborhoods
April 2018- Kasi Emmett, American Red Cross of South Dakota
May 2018- Lisa Husyeva, Children's Museum of South Dakota