Sioux Empire Volunteer of the Month for April 2021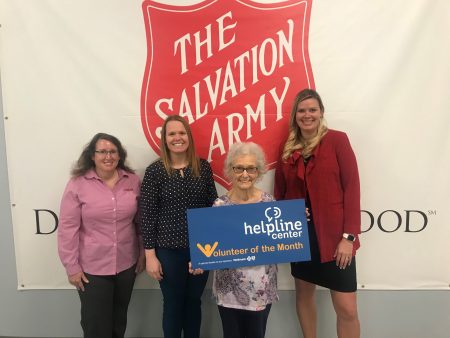 L to R: Marcie Priestly, The Salvation Army; Susie Ryks, Helpline Center;
April Volunteer of the Month, Sue Parton; and Casey Christensen, Wellmark.
The Helpline Center congratulates Sue Parton on being named the Sioux Empire April 2021 Volunteer of the Month, an area-wide award program sponsored by Wellmark Blue Cross and Blue Shield of SD.
Sue Parton has been volunteering with The Salvation Army for 15 years and serves on a weekly basis. Before the pandemic she was coming into the office every Friday to help answer phones, greet clients and assist with various projects. Since COVID began, she's been volunteering from home. Staff take her various projects, mailings, etc. One of her most important tasks is keeping in touch with seniors who would normally be attending our monthly Senior Neighbor Luncheon. This program has been cancelled for some time due to the pandemic. Sue is keeping in touch with clients via the phone and mail. In addition to making calls, she also sends them cards. It's difficult not being able to see everyone and we're so grateful to Sue for reaching out during a time when so many are feeling isolated.
A staff from The Salvation Army commented, "When our doors are open to the public, Sue is a smiling and welcoming face during times of uncertainty. Those living in poverty struggle daily to fill their basic needs. Having Sue as the welcoming face of our organization makes a huge impact during difficult times. Since COVID began, Sue has been reaching out to those in the vulnerable category. Those who looked forward every month to a social time where they gathered with friends at The Salvation Army. Now they look forward to hearing from Sue. Chatting with her or receiving a card in the mail. Sue writes the best cards. Cards that encourage and lift up her friends."
The Helpline Center are pleased to present Sue with a framed certificate and a letter of appreciation from Mayor Paul TenHaken.
For information on volunteer opportunities please call the Helpline Center at 211 or visit volunteer.helplinecenter.org.
Sioux Empire Volunteer of the Month Sponsored by:

2020-2021 Volunteers of the Month
June 2020, Masako Gould, The Outdoor Campus
July 2020, Pat Flittie, Senior Companions
August 2020, Jean Mescher & Diana Anderson, Dougherty Hospice House
September 2020, Katie Schoon, LifeScape
October 2020, Jeremy Neuheisel, Independent Living Choices
November 2020, Beverly Johnson, Sanford Health
December 2020, Kathleen Nagel, Siouxland Heritage Museums
January 2021, Andrea Dick, Alpha Center
February 2021, Arden and Carrie Sustad, The Community Outreach
March 2021, Julia Price Lee and Marisa Morris, EmBe
April 2021, Sue Parton, The Salvation Army
2019-2020 Volunteers of the Month
June 2019, Brook Geiken, Butterfly House & Aquarium
July 2019, Travis Jensen, LifeScape
August 2019, Wendy LaVergne, Workers on Wheels
September 2019, Dean Mertz, Good Earth State Park
October 2019, Jon Youngberg, Senior Companions
November 2019, Ron Mattice, The Salvation Army
December 2019, Greg Woods, Toy Lending Library
January 2020, Deb Shissler, St. Francis House
February 2020, Jill Turbak, Make-A-Wish
March 2020, David Yendeh, Caminando Juntos
April 2020, Dawn Stomberg, Call to Freedom
May 2020, Natalie Harms, Children's Inn

2018-2019 Volunteers of the Month
June 2018, Linda and Lori Heberling, Lunch Is Served, Inc.
July 2018, Julie Schnaible, Habitat for Humanity of Greater Sioux Falls
August 2018, Priscilla Jorve, Good Earth State Park
September 2018, Loretta Hill, Senior Companions of SD
October 2018, Gary Pierson, Workers on Wheels
November 2018, Joan Olson, Avera@Home Hospice
December 2018, Veronica Madetzke, Independent Living Choices
January 2019, Jan Noah, Alpha Center
February 2019, Dawn Hieb, St. Francis House
March 2019, Carol Everetts, Sanford Health
April 2019, Sara Crosby, Washington Pavilion
May 2019, Daryl DuBois, The Salvation Army