February Sioux Empire Volunteer of the Month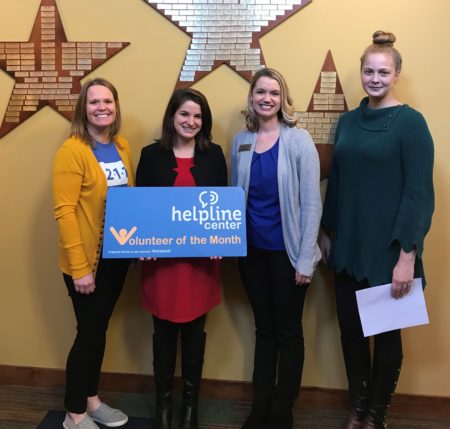 L to R: Susie Ryks, Helpline Center; Jill Turbak, February Volunteer of the Month;
Kerry Pollema, Make-A-Wish South Dakota; and Erin Eckrich, MetaBank
The Helpline Center congratulates Jill Turbak on being named the February 2020 Volunteer of the Month, an area-wide award program sponsored by the Helpline Center and MetaBank.
Jill has been an active volunteer with Mark-A-Wish for almost 8 years and volunteers about 5 times a month. She volunteers as a member of a wish team. She meets with the wish family, help the wish child determine the wish, provide wish enhancements and act as a liaison between Make-A-Wish staff and the wish family during the wish process. She also helps as an airport greeters meet and welcome wish families at the airport for their wish trip departure and/or return. As well as helping with the Hot Harley Nights event.
Kerry Pollema, with Make-A-Wish commented, "Jill Turbak has helped with almost 60 Sioux Falls airport greets this last year ranging from 3:00am to midnight. She has been a very active volunteer and has been instrumental in making sure we have a volunteer at the airport to greet families when they leave and come back. The many early morning and late night greets are hard to fill so without her a lot of families would have not been greeted. Having airport greeters at the airport are vital to enhancing wish trips. They provide reassurance to the families who haven't flown before and provide smiling, friendly faces at the airport to help wish kids celebrate their wishes coming true. In addition to her outstanding airport greeting, she is a wish granter on wish teams through the year and recently has become a dual-state volunteer for both South Dakota and Minnesota. This showcases Jill's caring heart and personality in that no matter where the wish kid lives, she will help. Jill is a volunteer when we say we don't know what we would do without her we're not kidding!"
The Helpline Center and MetaBank are pleased to present Jill with a framed certificate and a letter of appreciation from Mayor Paul TenHaken. We will honor her again at the Spirit of Volunteerism Awards Luncheon on May 12, 2020.
For information on volunteer opportunities please call the Helpline Center at 211 or visit volunteer.helplinecenter.org.
Sioux Empire Volunteer of the Month Sponsored by:

2019-2020 Volunteers of the Month
June 2019, Brook Geiken, Butterfly House & Aquarium
July 2019, Travis Jensen, LifeScape
August 2019, Wendy LaVergne, Workers on Wheels
September 2019, Dean Mertz, Good Earth State Park
October 2019, Jon Youngberg, Senior Companions
November 2019, Ron Mattice, The Salvation Army
December 2019, Greg Woods, Toy Lending Library
January 2020, Deb Shissler, St. Francis House
February 2020, Jill Turbak, Make-A-Wish

2018-2019 Volunteers of the Month
June 2018, Linda and Lori Heberling, Lunch Is Served, Inc.
July 2018, Julie Schnaible, Habitat for Humanity of Greater Sioux Falls
August 2018, Priscilla Jorve, Good Earth State Park
September 2018, Loretta Hill, Senior Companions of SD
October 2018, Gary Pierson, Workers on Wheels
November 2018, Joan Olson, Avera@Home Hospice
December 2018, Veronica Madetzke, Independent Living Choices
January 2019, Jan Noah, Alpha Center
February 2019, Dawn Hieb, St. Francis House
March 2019, Carol Everetts, Sanford Health
April 2019, Sara Crosby, Washington Pavilion
May 2019, Daryl DuBois, The Salvation Army