Sioux Empire Volunteer of the Month for December 2020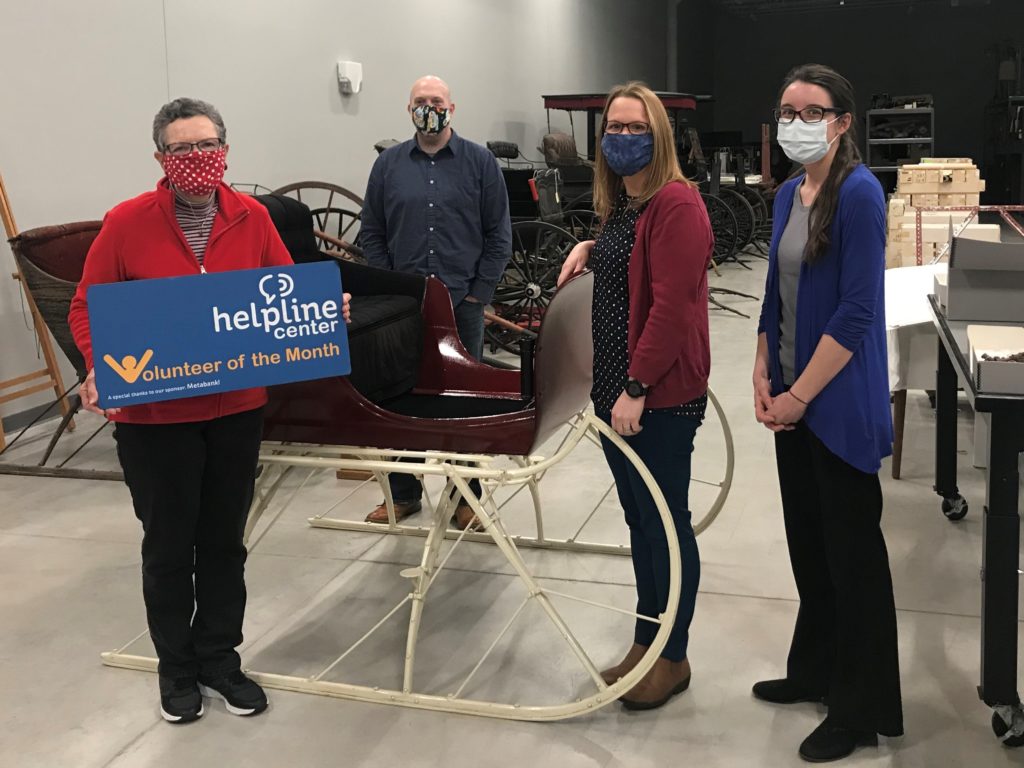 Kathleen Nagel, December Volunteer of the Month is with Adam Nyhaug, Siouxland Heritage Museums; Susie Ryks, Helpline Center; and Carolyn Johnson, Siouxland Heritage Museums at the Museum Resource Center around John W. Tuthill's cutter sleigh.
The Helpline Center congratulates Kathleen Nagel on being named the Sioux Empire December 2020 Volunteer of the Month, an area-wide award program sponsored by the Helpline Center.
Kathleen Nagel has been a volunteer at the Siouxland Heritage Museums since 2017. She primarily volunteers at the Museum Resource Center, where she helps process historic artifacts that people donate to Siouxland Heritage Museums. Every new item must be given a particular number, described in detail in our collections database, and stored safely so that it is preserved for years to come. Donations can be something as small as one old letter, or as big as a refrigerator or thousands of handkerchiefs, so processing these is a true team effort.
A Siouxland Heritage Museums staff commented, "We are grateful to have Kathleen on our team helping with new donations. Before retiring and moving to Sioux Falls, Kathleen had worked for 20 years at the Dakota Sunset Museum in Gettysburg, SD. Luckily for us at Siouxland Heritage Museums, Kathleen found that she missed the history museum environment, so she joined our volunteer ranks. Because of her previous museum experience, she was already knowledgeable in museum practices and the database software, so she could jump right in and help with anything that came up in our Collections Department. Since then, she has settled in and become a regular volunteer who can tackle new donations of any size and scope. And thanks to her previous experience in museums, she is not fazed by the occasional "mystery" object or problem that crops up and needs to be dealt with. Kathleen's willingness to help and her pleasant demeanor makes her a joy to be around. We are grateful to have Kathleen on our team."
The Helpline Center are pleased to present Kathleen with a framed certificate and a letter of appreciation from Mayor Paul TenHaken.
For information on volunteer opportunities please call the Helpline Center at 211 or visit volunteer.helplinecenter.org.
2020-2021 Volunteers of the Month
June 2020, Masako Gould, The Outdoor Campus
July 2020, Pat Flittie, Senior Companions
August 2020, Jean Mescher & Diana Anderson, Dougherty Hospice House
September 2020, Katie Schoon, LifeScape
October 2020, Jeremy Neuheisel, Independent Living Choices
November 2020, Beverly Johnson, Sanford Health
December 2020, Kathleen Nagel, Siouxland Heritage Museums
2019-2020 Volunteers of the Month
June 2019, Brook Geiken, Butterfly House & Aquarium
July 2019, Travis Jensen, LifeScape
August 2019, Wendy LaVergne, Workers on Wheels
September 2019, Dean Mertz, Good Earth State Park
October 2019, Jon Youngberg, Senior Companions
November 2019, Ron Mattice, The Salvation Army
December 2019, Greg Woods, Toy Lending Library
January 2020, Deb Shissler, St. Francis House
February 2020, Jill Turbak, Make-A-Wish
March 2020, David Yendeh, Caminando Juntos
April 2020, Dawn Stomberg, Call to Freedom
May 2020, Natalie Harms, Children's Inn

2018-2019 Volunteers of the Month
June 2018, Linda and Lori Heberling, Lunch Is Served, Inc.
July 2018, Julie Schnaible, Habitat for Humanity of Greater Sioux Falls
August 2018, Priscilla Jorve, Good Earth State Park
September 2018, Loretta Hill, Senior Companions of SD
October 2018, Gary Pierson, Workers on Wheels
November 2018, Joan Olson, Avera@Home Hospice
December 2018, Veronica Madetzke, Independent Living Choices
January 2019, Jan Noah, Alpha Center
February 2019, Dawn Hieb, St. Francis House
March 2019, Carol Everetts, Sanford Health
April 2019, Sara Crosby, Washington Pavilion
May 2019, Daryl DuBois, The Salvation Army