Sioux Empire Volunteer of the Month for July 2021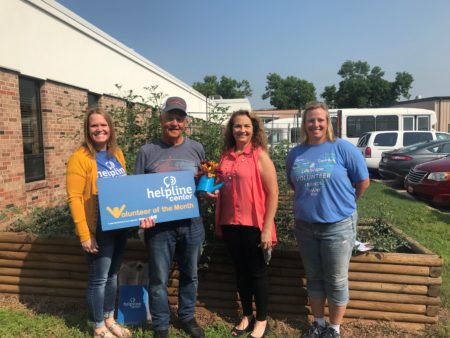 L to R: Susie Ryks, Helpline Center; Dale 'Barney' Blauwet, July Volunteer of the Month; Dawn Stephens, Wellmark Blue Cross and Blue Shield of SD; Becky Sluiter; LifeScape.
The Helpline Center congratulates Dale 'Barney' Blauwet on being named the Sioux Empire July 2021 Volunteer of the Month, an area-wide award program sponsored by Wellmark Blue Cross and Blue Shield of SD.
Barney volunteers each year, during the spring and summer, as his farming schedule allows. He has volunteered weekly assisting with a variety of projects in the past 4 years. Last year with COVID changing everyone's life, Barney was still dedicated to the LifeScape gardens starting in May and assist multiple times a week until harvest in September. Barney's farm to table experiences provides healthy food options and low food costs for all at LifeScape. Barney comes in 2-4 times a week, with at least one day during each summer weekend to ensure the gardens have water. He's the only person at the agency on the weekends. That's dedication and shows his love for others at LifeScape!
A staff from LifeScape commented, "Although a quiet man, his actions speak volumes and impact over 200+ people supported by LifeScape. Every day that Barney volunteers, he comes in with a great big smile, his bucket of gardening tools, and his coffee. Barney's smile, good humor, thoughtfulness, hard work, friendship, and dedication to helping people live healthy and empowered lives through gardening and healthy food options makes him the best of the best! His friendship means the world to us."
The Helpline Center are pleased to present Barney with a framed certificate and a letter of appreciation from Mayor Paul TenHaken.
For information on volunteer opportunities please call the Helpline Center at 211 or visit volunteer.helplinecenter.org.
Sioux Empire Volunteer of the Month Sponsored by:


Nominations are now open for the 2021-2022 Volunteer of the Month cycle. If you have an outstanding volunteer that you'd like to show appreciation to submit a nomination here.
2020-2021 Volunteers of the Month
June 2020, Masako Gould, The Outdoor Campus
July 2020, Pat Flittie, Senior Companions
August 2020, Jean Mescher & Diana Anderson, Dougherty Hospice House
September 2020, Katie Schoon, LifeScape
October 2020, Jeremy Neuheisel, Independent Living Choices
November 2020, Beverly Johnson, Sanford Health
December 2020, Kathleen Nagel, Siouxland Heritage Museums
January 2021, Andrea Dick, Alpha Center
February 2021, Arden and Carrie Sustad, The Community Outreach
March 2021, Julia Price Lee and Marisa Morris, EmBe
April 2021, Sue Parton, The Salvation Army
May 2021, Mike Gross, St Francis House
June 2021, Nancy Wahlstrom, Make-A-Wish South Dakota & Montana
July 2021, Dale 'Barney' Blauwet, LifeScape
2019-2020 Volunteers of the Month
June 2019, Brook Geiken, Butterfly House & Aquarium
July 2019, Travis Jensen, LifeScape
August 2019, Wendy LaVergne, Workers on Wheels
September 2019, Dean Mertz, Good Earth State Park
October 2019, Jon Youngberg, Senior Companions
November 2019, Ron Mattice, The Salvation Army
December 2019, Greg Woods, Toy Lending Library
January 2020, Deb Shissler, St. Francis House
February 2020, Jill Turbak, Make-A-Wish
March 2020, David Yendeh, Caminando Juntos
April 2020, Dawn Stomberg, Call to Freedom
May 2020, Natalie Harms, Children's Inn

2018-2019 Volunteers of the Month
June 2018, Linda and Lori Heberling, Lunch Is Served, Inc.
July 2018, Julie Schnaible, Habitat for Humanity of Greater Sioux Falls
August 2018, Priscilla Jorve, Good Earth State Park
September 2018, Loretta Hill, Senior Companions of SD
October 2018, Gary Pierson, Workers on Wheels
November 2018, Joan Olson, Avera@Home Hospice
December 2018, Veronica Madetzke, Independent Living Choices
January 2019, Jan Noah, Alpha Center
February 2019, Dawn Hieb, St. Francis House
March 2019, Carol Everetts, Sanford Health
April 2019, Sara Crosby, Washington Pavilion
May 2019, Daryl DuBois, The Salvation Army