The Outreach Support Program provides weekly supportive phone calls to older adults who may be isolated or home-bound, and who live in Minnehaha, Lincoln, McCook, or Turner Counties. The program is a series of supportive phone calls that includes a depression screen, mental health support, reinforcement of 211 as an ongoing resource, and connections to additional services, creating an expanded support and care system for older adults.
Call 211 if you are interested in participating or know of someone who might benefit from this program, or click HERE to electronically enroll.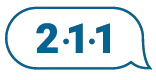 To learn more about the Outreach Support Program, please contact Nicole at nicole.reiser@helplinecenter.org.