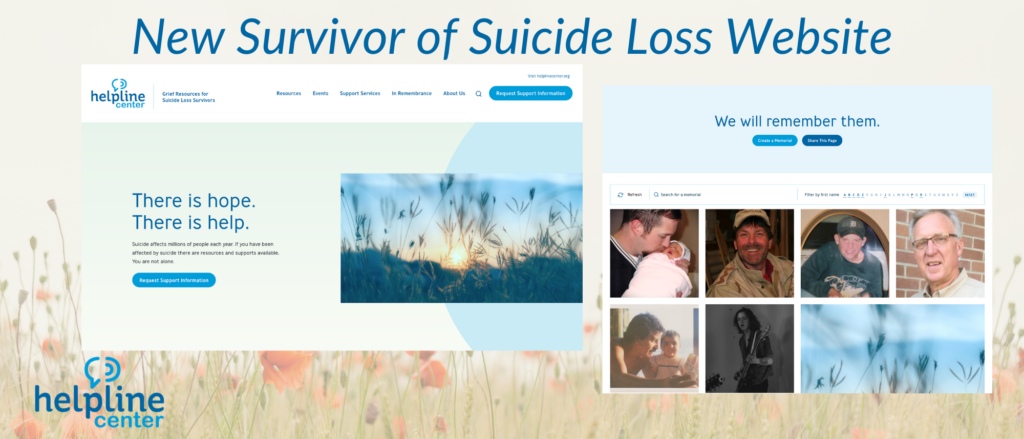 Each year more than 48,000 people die in the United State by suicide, leaving thousands of parents, siblings, wives, husbands, sons, daughters and friends to survive the tragic loss. The Helpline Center has offered support to those bereaved by suicide loss since 1999 and now, thanks to funds raised through 
The 437 Project
, we're able to expand how we can meet individuals in their grief. We're happy to announce the launch of a 
new website
designed with the goal of providing hope and help to even more suicide loss survivors. There are many new features on the site and we encourage you to take a look and help us spread the word!
Healing After a Suicide Loss booklet
In Remembrance page
Resource Library
In addition to the website and resources, we will begin offering a virtual support group online on the 3rd Wednesday of each month via Zoom.  We truly want to support individuals across South Dakota and we hope these new opportunities will provide just that. To learn more about our survivor resources or our virtual support group, please email 
griefsupport@helplinecenter.org.
The Helpline Center is offering several mental health and suicide prevention trainings.
Mental Health First Aid: teaches you how to identify, understand, and respond to the signs of mental health and substance use challenges in adults.

November 30, 8:00 a.m. – 5:00 p.m. (In-person)
Youth Mental Health First Aid: teaches you how to identify, understand, and respond to the signs of mental health and substance use challenges in youth (ages 6-28).

December 13, 8:00 a.m. – 5:00 p.m. (In-person)
Question, Persuade, Refer (QPR): teaches you how to recognize the warning signs of suicide, how to offer hope, and how to help save a life.
December 8, 18:30 a.m. (In-person)
December 8, 12:00 p.m. (Virtual)
To register for any of these trainings, click here.
The annual open enrollment period for health insurance is November 1 – January 15. Through Get Covered South Dakota, our navigator can assist individuals with finding affordable health insurance.
Whether you have a question about health insurance, need help applying on the Health Insurance Marketplace, or want someone to help you find the right plan, our health insurance navigator is here to support you. Call us at 211!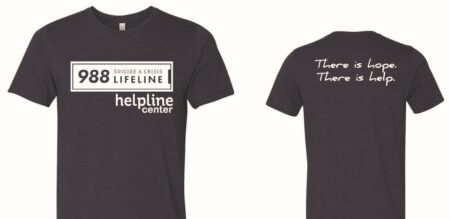 Help us spread awareness about 988 while wearing a 988 t-shirt! We're selling them at cost plus shipping. The t-shirts are Bella Canvas brand, unisex sizing and the color is heather navy.  Click on the link below to purchase! If you'd like to place a bulk order of 8 t-shirts or more, please email us at marketing@helplinecenter.org.
Fire Prevention Week - October 9-15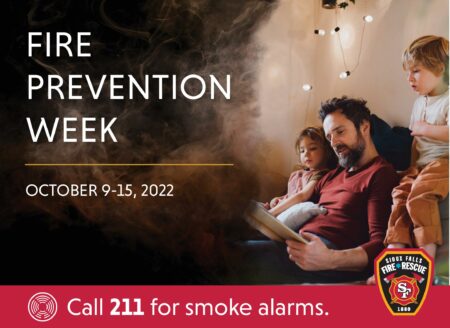 Nearly three of every five home fire deaths occur in households with no smoke alarms (41 percent) or no working smoke alarms (16 percent). According to Fire Inspector Brandon Fey, Sioux Falls Fire Rescue (SFFR), every second counts when a fire breaks out. "Studies show a fire can double in size every minute."
The first line of defense? Smoke alarms.
October 11 and October 13, SFFR will conduct a Sound the Alarm event during Fire Prevention Week. SFFR aims to prevent loss of life by ensuring City residents have up-to-date smoke and carbon monoxide alarms. SFFR invites individuals and families within City limits to request alarms and installation free of charge.
Requests can be made by calling the Helpline Center at 211, after which SFFR will contact callers to schedule an installation time on October 11 or 13, or a later date if neither of those work.
SFFR and other City employees will install the alarms provided in partnership with the American Red Cross.
Fey also urges residents to replace alarms that have been in service for more than ten years. "Over time, they get coated with household dust and debris, which can cause an alarm malfunction at the time of a fire," Fey explains.
Sound the Alarm! Share information about this opportunity widely with family and friends. There's no better time than Fire Prevention Week.
Sioux Falls Fire Rescue is partnering with other city departments for a Sound the Alarm event on October 11th and 13th. This event will take place during fire prevention week, October 9th-15th. If you need a smoke or carbon monoxide alarm, please call us at 211 and we will get you scheduled.
Volunteer Engagement Training
The Volunteer Engagement Training Program (VETP) is an in-person, 3-day series (Sept 27, Oct 4, Oct 11) from 9:00am-12:30pm CT each session.
Registration Fee: $35 (covers cost of materials)
Are you new to managing volunteers? Do you want to build a stronger, more effective volunteer program? Volunteer Management Training will help you better manage volunteers for more effective results! Increase volunteer recruitment, retention and productivity.
The curriculum includes the following six courses:
Module 1: Establishing the Framework
Module 2: Planning for Volunteer Engagement
Module 3: Opportunities & Outreach
Module 4: Intake & Onboarding
Module 5: Supervision & Support
Module 6: Evaluation
Contact Jennie Marks at (605) 274-1407 or jennie.marks@helplinecenter.org to learn more.
International Overdose Awareness Event - August 31
294 people die every day in the U.S. from overdose. Join us for a public, community-wide event, to remember those who have died from overdose.
We are holding a candlelight vigil at the outdoor Greenway Amphitheater in downtown Sioux Falls next to Cherapa Place and the Arc of Dreams, which will be lit up in purple, the color to recognize International Overdose Awareness Day.
Hear from families who have lost loved ones to addiction, as well as those who continue to battle substance use disorder. There will also be information on how to get help and what families can do to help a struggling loved one. Singer Elisabeth Hunstad will perform.
Step Forward to Prevent Suicide - Yankton
The Helpline Center, in partnership with Bridging Yankton, invites you to the Step Forward to Prevent Suicide event!
Saturday August 6, 2022 
Riverside Park Amphitheater
Registration beginning at 8:15am with program start at 9:00am
2022 honorary speaker:  Wendy Mamer
Wendy will be sharing her personal story of the loss of her father to suicide
Live music will be provided by Monte Gulick
2022 Emcees will be: Marc Bies and Doug Pesicka, Yankton High School
Help us raise awareness and support for the Helpline Center's suicide prevention and survivor support programs.
The 437 Project was born of a passion for prioritizing physical and mental wellness, and the often overlooked connection between the two. In September 2022, the inaugural 437 Project will run 437 miles across the state of South Dakota, raising funds to support the Helpline Center.
There are all sorts of ways to get involved and we'd encourage you to learn more at, https://the437project.org/
We're extremely grateful to have been chosen as the benefactor of this incredible endeavor.  The official dates of the run are September 22-25 and the runners will begin in Belle Fourche and the run will end in Sioux Falls.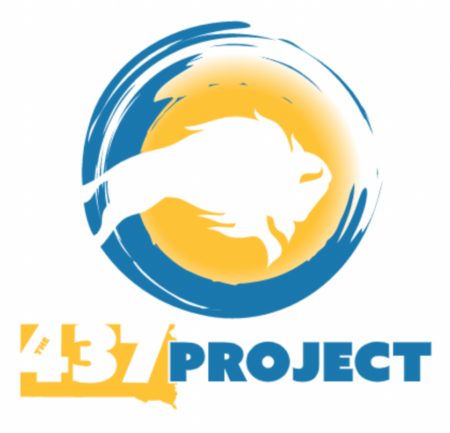 The Helpline Center is proud to announce the launch of 988, a direct connection to compassionate, accessible care and support for anyone experienced mental health-related distress. Whether that is thoughts of suicide, mental health or substance use crisis, or any other kind of emotional distress. People can also call 988 if they are worried about a loved one who may need crisis support.
Of course, 988 is more than just an easy to remember number, it's a direct connection to compassionate and professional support for anyone who might be struggling with emotional distress, experiencing suicidal thoughts, or who is concerned about a family or friend with a mental health or substance use issue.
To learn more about 988 in South Dakota, click here.
We have a variety of promotional materials available for order, check them out here.