Volunteer Management Training
Join the Volunteer Connections staff for a 3-part online training focusing on the volunteer management core pillars. If you've been looking for a way to refresh your volunteer program and collaborate with other volunteer management leaders in South Dakota, this is the training for you!
The dates for the training are:
November 2, 9, 16, 2021
Those that register must be able to attend all three dates.
Training hours are: 8:30am-11:30am MT / 9:30am-12:30pm CT

Cost is $30 (covers cost of materials plus shipping)
Register at https://virtualvmt.eventbrite.com
Deadline to Register is Monday, October 25th.

The Compassion Project Unveiling & Dedication
The inspiration for Compassion is a true champion of reaching out to those in need. Fern Chamberlain  irrevocably changed the face of our community for the better. At her core, Fern was compassionate, and time and time again she stepped forward to lessen the suffering in our community. The sculpture does not depict Fern Chamberlain, but instead is inspired by the compassion she showed throughout her lifetime.  The fingerprints of her work can be seen daily in our community.  She played a role in starting multiple core non-profit organizations in our community including the Helpline Center, Active Generations, and the food pantry at Feeding South Dakota. She led the charge in creating a pathway to success for those less fortunate by speaking up and speaking out for those whose voices are not often heard. She touched thousands of lives through her life and her legacy continues to impact countless others.
To learn more, visit the website at http://compassionprojectsf.org/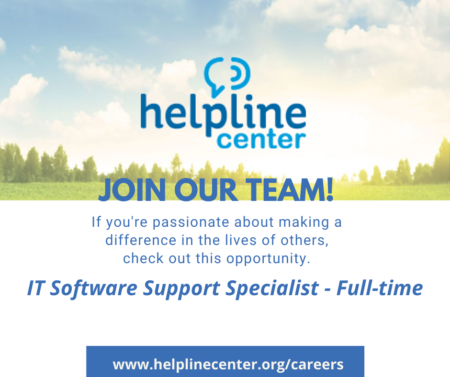 The Helpline Center is currently seeking qualified candidates for a unique and fulfilling role in software support.  If you have a passion for helping others and enjoy being part of a great team, please visit our website to learn more!
Light the Night with HOPE
Join us during the week of September 5-11 as we raise awareness and support during National Suicide Prevention week.  One of the ways you can get involved is volunteering at our Light the Night with HOPE event on Thursday, September 9th at 8:30 p.m.
We're so grateful to Augustana University for allowing us to use the beautiful Kirkeby-Over football field. We're going to bring over 200 volunteers together to help us share a message of HOPE. Each volunteer will hold an LED candle and be a part of one of the letters of HOPE. With the expertise of the incredibly talented staff at Pinnacle Productions, we'll film the event with cameras and a drone and from that footage a video will be created that will premiere on World Suicide Prevention Day, Friday, September 10, 2021.  To add some energy to the night, DJ Jer will be on hand sharing some music to bring the fun.  You don't want to miss out!
Want to join us?  Fill out our online registration and we'll keep you in the loop with additional information!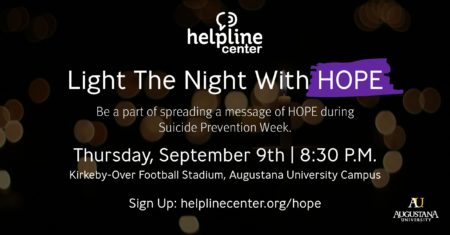 Now Accepting: Volunteer of the Month nominations
Tell us about the amazing volunteers that you know! Volunteer of the Month is an an area-wide award program presented by the Helpline Center. The Volunteer of the Month Award is given to an individual, or a group of individuals, who exhibit an outstanding commitment to volunteer service. One award is given to a winner each month in the Sioux Empire, Black Hills and Brookings County.
The Helpline Center sends out the Volunteer of the Month Nomination Form to area non-profit agencies each year. A winner is selected out of the nominations for each month, and a surprise celebration is held for the volunteer at the agency where the winner chooses to give his or her time.
Nominations are now being accepted for the 2021-2022 Volunteer of the Month program. Please use the links below to nominate.
The Helpline Center is beginning an exciting new project in which survivors of suicide loss from across the state can participate. We have recently begun collecting recipes for "Soul Food: A Loving Collection of Food and Memories." Anyone within our survivor community may contribute a recipe to the cookbook. Here's what we're looking for:
A recipe for something that was a special favorite of your loved one.
A photo of your loved one to accompany the recipe.
A brief description of your memory of your loved one enjoying this food.
Each recipe's page will incorporate all of these elements on that particular page. This is a creative opportunity to remember your loved one and to share both their memory and their favorite food with those who purchase the cookbook.
At this time, we do not have an exact price for each book, but we estimate this will be in the $12-$15 range, plus shipping. Even though this is categorized as a fundraising project, we have decided to forego any profit in order to keep costs as low as possible. The cookbooks can be pre-ordered, paid for (when the final price is determined), and recipes can be submitted at the publisher's portal at https://www.createmycookbook.com/groups/DJb9cY5Hc.
Recipes can be from any category – main dishes, soups, desserts, side dishes, baked goods, etc. We will begin the printing and shipping process once we have 100 orders for the book. The culmination of this project will be a potluck meal featuring many of these recipes on Saturday, November 20, 2021, which is National Survivors of Suicide Loss Day. More details on the observance of that day to come prior to the event.
Anyone can purchase the cookbooks, but only survivors of suicide loss may submit a recipe and photo.
If you have any questions about this project, please contact Jennie Marks by email or by phone at (605) 274-1416.
International Overdose Awareness Day 2021
International Overdose Awareness Day Remembrance Ceremony Event
Each day 223 people die of drug overdose deaths in the United States. Join us for an evening centered on awareness and education which will include presenters sharing stories of loss and recovery with a remembrance ceremony. At the conclusion of the remembrance ceremony, luminaries will be placed to remember lives lost to overdose following by lighting of the Arc of Dreams.
Speakers include: Mayor Paul TenHaken, Angela Kennecke, Alicia Steinfurth, Marcia Lenard, Jessica Pfau, and Mary Ann & Alexa Giebink.
When: August 31, 2021
7:30-8:30pm CST
Where: Raven Industries Amphitheater
205 E. 6th Street
Sioux Falls, SD 57104
Event Registration (encouraged but not required)
Volunteer Sign-up
Remembrance Ceremony Name Input Form
Thank you to everyone who has made this event possible: Emily's Hope, Face It TOGETHER, Ransom Church, The Flower Mill, Beal Distributing, and Raven Industries.
211 University
Special Edition: Overdose Awareness Day
In this 1 hour virtual presentation, Helpline Center staff will share tips and tricks on how to access our community resource information to support the work you do connecting individuals with a substance use disorder to support. Learn how to search and find resources through our 211 online database, various resources guides, translating resources, HelpSheets, how to create a HelpList and Community Calendars. CEU's available.
Step Forward to Prevent Suicide - Yankton

The Helpline Center is holding a School Supply Drive from July 1-30, 2021 at various locations throughout the Sioux Empire, Brookings County, and the Black Hills. Helpline Center Volunteer Connections invites individuals, businesses and families to donate basic need items at locations in your community!
All donations will be donated to nonprofits and schools to distribute to those they serve. To learn more about where and what you can donate, click here to learn more.
Helpline Center now offering Lyft rides for COVID-19 vaccine appointments
The Helpline Center, in partnership with the South Dakota Department of Health, will provide free Lyft rides for individuals to their COVID-19 vaccine appointment.
"The Helpline Center is pleased to offer this critical service to high risk groups in South Dakota. We know that transportation is often a barrier to getting vaccinated and we are very appreciative of the partnership with South Dakota Department of Health to make this possible", said Janet Kittams, CEO of the Helpline Center.
Individuals in Aberdeen, Brookings, Pierre, Rapid City, Sioux Falls and Watertown (and those within 20 miles of any of these communities) are eligible for this free service.  If someone doesn't have transportation access to their vaccine appointment, they can simply call 211 and the Helpline Center staff will assist in the scheduling of a Lyft ride. The vaccine appointment must already be scheduled and there is a maximum of four rides per person. Riders will be required to follow COVID-19 prevention protocols, such as wearing a face covering during the ride and sanitizing hands frequently.
If you or someone you know doesn't have the ability to get their COVID-19 vaccine due to a transportation concern, please call 211 today to get your free Lyft ride scheduled.