Spirit of Volunteerism Awards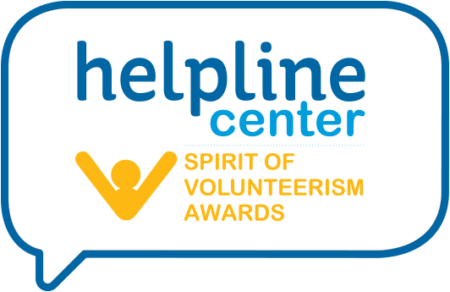 To protect those from the spread of COVID-19, we have made the hard decision to cancel the Spirit of Volunteerism Awards Banquet for 2020.
The Spirit of Volunteerism Awards are held annually in May by the Helpline Center to honor outstanding volunteers. The Helpline Center Volunteer Connections programs seek nominations from our community in the following categories: youth, adult, group and corporate humanitarian. Nominations are then reviewed by a panel of community leaders and winners are announced live at the event. The Spirit of Volunteerism awards have been recognizing the exemplary efforts of volunteers for more than 35 years.
Sioux Empire Area
Thank you to our sponsors…
Commemorative Program Sponsor:
Midco
Youth Volunteer Awards Sponsor:
Children's Dental Center and Parkway Orthodontics
Up and Coming Volunteer Awards Sponsor:
The First National Bank in Sioux Falls
Shining Bright Volunteer Awards Sponsor:
High Point Networks
Lifetime Volunteer Awards Sponsor:
First PREMIER Bank/PREMIER Bankcard
Group Volunteer Award Sponsor:
Avera
Corporate Humanitarian Awards Sponsor:
Independent Insurance Agents of Sioux Falls
Black Hills Area
Thank you to our sponsors…
Commemorative Program Sponsor:
Midco
Youth Volunteer Awards Sponsor:
Scull Construction
Up and Coming Volunteer Awards Sponsor:
Monument Health
Shining Bright Volunteer Awards Sponsor:
Black Hills Energy
Group Volunteer Award Sponsor:
Black Hills Community Bank
Corporate Humanitarian Awards Sponsor:
Helpline Center